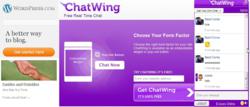 Los Angeles, CA (PRWEB) October 15, 2012
Wordpress website owners will now have a powerful communication partner through the latest Chatwing chat widget. The Chatwing application is a simple micro-chat box that can be used for many purposes. These purposes include social media marketing, blog marketing, social connections, brand awareness, and information relay. The Chatwing chat app is also highly compatible with any Wordpress blog or website, making it a highly accessible tool for everyone.
There are hundreds and thousands of niche blogs in Wordpress alone. Most of these niche blogs are discussing various interests, events, and trends. One of the most common niches is technology. Through Chatwing's free chat box, a Wordpress site owner will be able to utilize global connectivity by a significant percentage. Installing the Chatwing application can also be accomplished in just seconds because the platform is simple.
In the latest version of the Chatwing chatbox, customization is widely emphasized. Now, users can add background images in their shoutboxes. This feature is useful for online marketers, blog marketers, and brand makers. It has been proven that images are effective in promoting specific brands. The average Chatwing chatroom can also accommodate 1000 users simultaneously, so the potential for global chat is high.
Aside from customization, the Chatwing team has also improved the application's platform speed and efficiency. In this way, web surfers will be able to engage in worthwhile and entertaining conversations every now and then. The team has also set up a series of blogs containing information about the free shout box.
About Chatwing.com
Chatwing.com specializes in the new field of website chat. Over years, the Chatwing team has introduced live chat widget for hundreds and thousands of blogs. The Chatwing application bridges people from many parts of the world, creating global synergy through the Internet. The shout box can be installed in just seconds, and it can be used for varying purposes such as leisure and Internet marketing. It also allows a user to customize the size, color, and name of the widget. Chatwing is 100% free for everyone.