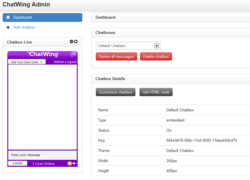 Chicago, IL (PRWEB) October 15, 2012
Everyday, thousands of new blog and website applications are being introduced in the online arena. This is based on the objective research of the Chatwing Development Team over the past few months. With this useful information, the Chatwing Team has launched a chat widget that empowers global connectivity by a high percentage. Aside from that, the Chatwing application also allows users to customize the application according to their preferences.
Customizing the Chatwing chatbox is now an easy thing to do. First, the Chatwing admin must go to his dashboard and from there, he can set up the overall style of the shoutbox. The size and color of the widget can be adjusted easily and users can also select from three shoutbox forms. Unlimited chat box creation is also one of the newest features of Chatwing app, and this is useful for people who are maintaining many websites.
Users can now add background images to the free shout box. With this option, online marketers can gain a simple leverage in the online arena. Chatting will become more fun with the help of images. Setting up word filters has also become easier—users just need to type the word they want to filter, and Chatwing app will do the rest.
The Chatwing Development Team believes in three important factors when it comes to website applications: versatility, adaptability, and performance. If these three factors are beyond excellence, any application will be widely recognized across the Internet. To ensure that Chatwing's free chatbox attains these goals, the team is planning to put more upgrades and developments.
About Chatwing.com
Chatwing.com specializes in the new field of website chat. Over years, the Chatwing team has introduced live chat widget for hundreds and thousands of blogs. The Chatwing application bridges people from many parts of the world, creating global synergy through the Internet. The shout box can be installed in just seconds, and it can be used for varying purposes such as leisure and Internet marketing. It also allows a user to customize the size, color, and name of the widget. Chatwing is 100% free for everyone.