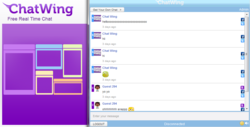 San Antonio, TX (PRWEB) October 16, 2012
Chatwing has raised the opportunity of easy global communication for everyone by launching the latest version of its free chat widget. The Chatwing application is known for its efficiency in connecting people within the least possible time. Additionally, the Chatwing application integrates the power of social media. With such option, users can now expand their social networks easily. The Chatwing application can also be customized freely, giving users an advantageous position.
Chatwing's free chat box has empowered the usage of social media. With this feature, Chatwing visitors can now log in with their Facebook or Twitter accounts. The Guest option can also be used wherein users can remain anonymous and choose from Chatwing's selection of avatars. The avatars are based on many pop culture references and have a 'blocky' style. There are also lots of emoticons to choose from so users can mirror what they feel about a certain discussion.
Social media marketers have started using Chatwing's free shout box because of the connectivity that it can offer. Visitors can send invitations to each other, and they can now join social media communities easily. Also, the Chatwing chat app has also been used in forum sites and other podcasting blogs. Many bloggers have remarked that the possibilities seem endless for the Chatwing application.
The Chatwing Team will always create strategies that can bring the premise of global chat to a better standard. In this way, many people can connect with each other and information will travel at a fast pace. To cope with online changes, the Chatwing Development Team is planning to introduce new developments to the free chat widget.
About Chatwing.com
Chatwing.com specializes in the new field of website chat. Over years, the Chatwing team has introduced live chat widget for hundreds and thousands of blogs. The Chatwing application bridges people from many parts of the world, creating global synergy through the Internet. The shout box can be installed in just seconds, and it can be used for varying purposes such as leisure and Internet marketing. It also allows a user to customize the size, color, and name of the widget. Chatwing is 100% free for everyone.