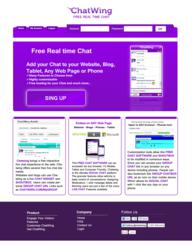 Boston, MA (PRWEB) October 16, 2012
Chatwing has just launched its latest chat widget that is filled with useful features that can benefit the average web surfer. The Chatwing application uses the potential of social media and allows 100% accessibility to any user. Moreover, the Chatwing team has adjusted the application's customization efficiency. Now, users will have more customization handicap, compared to other applications where choices are limited.
One of the best features of Chatwing's customization scheme is the capability to integrate background images. With this feature, Chatwing users will have more leverage and they can create enticing chat boxes that will fit the theme of their blogs or websites. Chatwing's developers have announced this customization efficiency in blogging communities first, and then they moved to forums, podcasting sites, and business websites. In all sectors, Chatwing's free shout box has gathered positive feedbacks. These feedbacks are currently noted in Chatwing's recent strategic plan.
Social media integration is also included in Chatwing's bundle of features. This option allows users to log in with their social media accounts. Now, website owners can send invitations to visitors who are looking for more information. Additionally, website owners and visitors can join social media communities. This is the reason why some online marketers have started including the Chatwing chatbox for their campaigns.
Chatwing's free chat box will always be filed with new developments in order to cope with growing online changes. The Chatwing Development Team understands that applications must be dynamic to ensure business survival. Moreover, competition must be handled with a strict strategic plan.
About Chatwing.com
Chatwing.com specializes in the new field of website chat. Over years, the Chatwing team has introduced live chat widget for hundreds and thousands of blogs. The Chatwing application bridges people from many parts of the world, creating global synergy through the Internet. The shout box can be installed in just seconds, and it can be used for varying purposes such as leisure and Internet marketing. It also allows a user to customize the size, color, and name of the widget. Chatwing is 100% free for everyone.