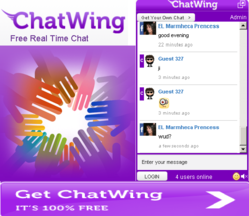 Cambridge, MA (PRWEB) October 17, 2012
Many people are now relying on the functions of website applications. Everyday, new applications are being introduced online, with varying purposes and designs. The Chatwing Development Team has a firsthand experience when it comes to creating chat applications. Recently, the company has launched a chat widget that has three styles or form factors. These styles have allowed Chatwing users to scale the application and fit the theme of their blogs or websites.
The first Chatwing app style is the chatbox form. This allows the user to embed the Chatwing app as a micro-chatroom that can serve as an online 'lounge' for visitors. In the Chatwing chatroom, visitors can use their social media accounts as login options. Others can go for the Guest option, wherein they can select from Chatwing's collection of avatars. The shoutbox form takes a moderate space in the blog or website, and the admin can still adjust the size.
The second style is called the pop-up window mode. This option takes only a small amount of space because a 'chat' button is only integrated in the free shout box. Once visitors click the chat button, they will be taken to a separate window. The recent form factor is the vanity URL. This option allows users to create their own usernames and shortlinks. They can send the shortlinks to their friends and acquaintances, initiating private group chats.
With three useful options, the Chatwing free chatbox is always visited by many visitors on a daily basis. The Chatwing team has noted that the application generates thousands of signups per day. In the following months, the team is looking forward to upgrade the chat platform.
About Chatwing.com
Chatwing.com specializes in the new field of website chat. Over years, the Chatwing team has introduced live chat widget for hundreds and thousands of blogs. The Chatwing application bridges people from many parts of the world, creating global synergy through the Internet. The shout box can be installed in just seconds, and it can be used for varying purposes such as leisure and Internet marketing. It also allows a user to customize the size, color, and name of the widget. Chatwing is 100% free for everyone.