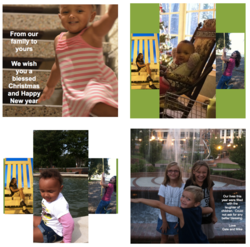 Jamestown NC (PRWEB) October 16, 2012
Memory Cross is holding the ultimate creative Christmas card design contest. Winners will receive 100 cards of their design for free.
Memory Cross, the maker of an origami card which never stops folding, is holding a contest for children and adults who would enjoy giving one of the most creative Christmas cards ever. Cards can be designed on a computer or by hand and the contest is open to anyone in the United States or Canada. Besides Christmas cards, designs can be submitted for any holiday in December including: Kwanzaa, Saint Nicholas Day, New Year's and Hanukkah. Entries will be posted online and winners will be selected based on the number of votes they receive. All entries must be received before November 30, 2012.
The Christmas cards have a unique patent pending die cut shape that creates four panels out of two. This not only allows more room to tell a story but opens up new design possibilities not available on a normal Christmas Card. The cards are printed on Accent Opaque premium 100 pound cover which is acid free and archival quality. They will be printed on a Xerox 800 digital press which produces bright, vibrant images and clean subtle hues. Matching envelopes will be included.
About Memory Cross Inc. Memory Cross makes origami folded cards that are used to share the Gospel and teach children Bible stories. Other applications include cards that teach children their ABCs and help kids learn to eat and live healthy lives.