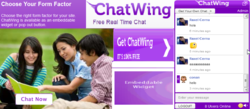 Boston, MA (PRWEB) October 17, 2012
Chatwing Dev Team has recently announced the launch of its professional chat widget in different online communities. The Chatwing chat app is capable of global connectivity in a large scale, and up to 1000 users can communicate simultaneously. Website owners have started using the Chatwing app lately because of the global connection that it can offer. Another strong factor attributed to the Chatwing app is its full spectrum of customization options.
Chatwing's free shout box may appear as a simple micro-chatroom, but it is considered by many as a simple professional solution. Online marketers have started using the Chatwing app to reach more groups of people. Chatwing visitors, on the other hand, are using the application to expand their social networks. Currently, Chatwing allows users to log in with their Facebook or Twitter accounts.
The Chatwing chatbox has also been used by professional niche bloggers in different communities. Wordpress bloggers have relied on the Chatwing app when it comes to building subscriber bases. Additionally, the Chatwing app can also increase a website's visibility through continuous usage.
To ensure that users are always satisfied, the Chatwing team is keenly observing all of their active chatrooms. Moreover, user feedbacks are recorded properly so they can become templates for upcoming platform developments. Updates regarding the free chatbox are also posted in the Chatwing Facebook page and official blog.
About Chatwing.com
Chatwing.com specializes in the new field of website chat. Over years, the Chatwing team has introduced live chat widget for hundreds and thousands of blogs. The Chatwing application bridges people from many parts of the world, creating global synergy through the Internet. The shout box can be installed in just seconds, and it can be used for varying purposes such as leisure and Internet marketing. It also allows a user to customize the size, color, and name of the widget. Chatwing is 100% free for everyone.