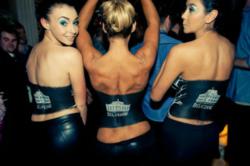 Melbourne, Victoria (PRWEB) October 16, 2012
We Love Face Painting! Of Melbourne was on site at the grand opening of the Springvale Botanical Cemetery in Clayton on Sunday, October 7, 2012. The artists of We Love Face Painting were a big hit as they offered their special brand of face and body painting to those who turned out for the opening of the new cemetery.
Shelley Bledsoe, owner of We Love Face Painting! was very pleased with the turnout and with the efforts of her staff. Shelley has been in the face painting business since 2007 and is one of the biggest advocates of this art form. She and her staff truly love the business of face painting and the owners of the Springvale Botanical Cemetery were thrilled with the service they received. Shelley brought the same level of excellence to Springvale Botanical that she brings to all clients. As Shelley puts it, "We love our work because it is such a great joy to make people feel special. We love how face painting makes us feel too! Our greatest reward is feeling connected to the community, we are privileged to share in your special occasions, and to meet people from all walk of life. We love to watch the magic of art impact on peoples' lives. It is our team's sincerest desire to provide each person we paint with a feeling of joy, satisfaction and personal value in the time we spend with them."
We Love Face Painting offers its services at corporate events, family fun days, movie day events, store openings and children's birthday parties. They specialize in temporary tattoos, adult face painting, Halloween face painting and face painting to keep the kids entertained at any function.
Those who want to learn more about this fun company and its services can visit their website at http://www.welovefacepainting.com.au or call Shelley at 0400 042 612.
ABOUT WE LOVE FACE PAINTING!
We Love Face Painting! is based in Melbourne, Victoria. The firm was established by Shelley Bledsoe in 2007. Shelley has a background in Makeup Artistry so face painting was a natural progression for her and she loves doing it! The We Love Face Painting team thoroughly loves what they do and prides themselves on their reliability, and quality work. The company's face painting designs range from popular full face to cheek art.