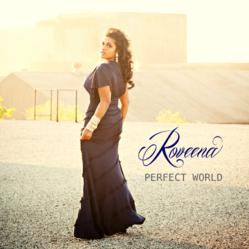 "The debut EP of Sri Lankan born Roveena is intoxicating, dramatic and emotionally provocative" (Ponoka News)
Toronto, ON (PRWEB) October 16, 2012
"The debut EP of Sri Lankan born Roveena is intoxicating, dramatic and emotionally provocative" (Ponoka News). Upon first listen to Perfect World, a mini-album introducing an artist who combines vocal virtuosity with a highly accessible yet distinctively original musical vision. Perfect for the world of adult contemporary radio, the five-song disc boasts production values of the highest order while presenting a bracing mix of new contemporary material and a fresh take of a pop classic. "This sets it apart from the majority of pop music churned out by record companies these days" (Yorkton This Week).
The first single off her debut album, which is available on DMDS, is Roveena's version of Mr. Mister's smash '80s hit "Broken Wings" features lushly evocative instrumentation and soaring vocals that pack an emotional punch.
Roveena studied psychology and music as an undergraduate at The University of Waterloo, but chose to pursue a career in Human Resources. Her love of music never diminished, and she began posting YouTube videos of her live performances. That led to a genuinely life-changing moment when Toronto's CityTV invited Roveena to perform on their show Breakfast Television. She so stunned host Kevin Frankish with the power of her voice that a planned one minute segment turned into eight minutes, an appearance that would launch Roveena's musical career. In addition to CityTV, Roveena has also been featured on Slice Network, OMNI TV and has performed for the Blue Jays at the Rogers Centre, the NFL and TVi which boosted her profile in the South Asian community, both in Canada and internationally.
MUSICAL HEAVYWEIGHTS KEEN TO CONTRIBUTE TO A NEW SOUND
The remaining tunes on Perfect World were pitched to Roveena by some major publishing companies and songwriters keen to see their compositions given the Roveena treatment. Liz Rodrigues (Celine Dion, Eminem), Andrea England and Luke McMaster co-wrote "Love Will Light The Way," Rob Wells (Backstreet Boys, Justin Bieber), Jess Cates and Lindy Robbins teamed up on "I Lied," and Nashville writing team Kent Agee, Burton Collins and David Worby contributed "Alone Another Night."
"Musically these songs really fit with my image and theme," she says. "I was hooked by the melodies, and the lyrics jumped out at me too. When such great writers want to pitch you their work, you can't say no."
Songwriting is still in its infancy for Roveena, however, she clearly has great potential as a writer. That is illustrated by the song "Perfect World," a co-write with Producer, Brian Allen. It takes real creative courage for your first recorded original composition to be one addressing a social problem of women struggling with body image.
Helping frame Roveena's force of nature voice on Perfect World, are a couple of master musicians. Juno-award winning Robert Michaels is internationally renowned as a fluent acoustic guitarist with a strong world music influence, while keyboardist Juno Award/Grammy nominated Sam Reid found fame as a member of Glass Tiger.
Perfect World features South Asian percussionists, on tablas, mridangam and dafli, and the use of baya and sitar further adds a subtle world music flavour to the compositions. Roveena is proud of her Tamil heritage, and wanted to reflect this on the album. "I loved bringing some different sounds to the music and identifying myself as South Asian. The aim was to have something commercial but also a little different," she explains, citing such artists as Peter Gabriel and Sting as inspirations in this regard. Brian Allen adds "we began to call this sound pop with a little spice sprinkled over it."
SRI LANKAN-BORN SONGSTRESS BRINGS TRUTH TO A DREAM
Roveena and her family have experienced a rather nomadic life, living in Sri Lanka, the U.K., and Nigeria prior to settling in Canada in the mid '80s. She is now a passionately proud Canadian, declaring that she chose the album title "because Perfect World is a good reflection of what my life is, being an immigrant in this country. I live a duality, but I now identify myself as a Canadian first."
Perfect World is available on all major online retailers as of October 16, 2012.
# # #
Credits: Kerry Doole, Ponoka News & Yorkton This Week
Press-Quality Photos are available at http://www.roveena.ca/#!presskit/c20of
More Information about Roveena visit http://www.roveena.ca
To Schedule an Interview Contact: Sanjeevan Srikrishnan at (416) 918-2484 or management(at)roveena(dot)ca