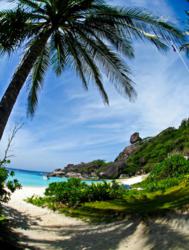 Unbelievably helpful! They helped make our trip complete! - Tiffany L
Khao Lak, Thailand (PRWEB) October 16, 2012
The new itineraries are aimed at scuba divers of all experience levels to suit a greater variety of travel plans. Divers can now choose from:
Burma liveaboard trips combining Manta Ray research, community aid projects and exploration
The best selection of Similan Island and Burma liveaboards for every budget
Day trips to Koh Bon, Koh Tachai and Richelieu Rock
Convenient half day Khao Lak wreck diving
Khao Sok overnight lake diving, cavern courses and exploration
Luxury Burma Liveaboard with Dr Andrea Marshall February 2013:
Dr Andrea Marshall will return to dive with Clive White and Ric Parker on a nine day trip to Burma's Mergui Archipelago conducting Manta Ray research in the run up to CITES CoP16 (March 2013, Bangkok, Thailand). The trip will include diving at the Burma Banks, Richelieu Rock and the Similan Islands. There are still limited spaces available.
Budget, Mid-range and Luxury Similan Liveaboards:
A Similan Island liveaboard is the ultimate way to enjoy scuba diving around the islands and to explore the better dive sites to the north: Koh Bon, Koh Tachai and Richelieu Rock. On a Similan liveaboard there are more opportunities to dive than on day trips. Diving is conducted in a safe and relaxing manner, allowing access to dive sites at the least crowded times, providing the opportunity to meet interesting like-minded people around dinners of delicious Thai food. Most notably on a Similan liveaboard, divers wake up close to the beautiful islands and dive sites.
Similan Islands and Richelieu Rock Day Trips:
Due to the changed conditions and increasing popularity of Similan diving, Thailand Dive & Sail will concentrate on providing the destination best suited for each individual diver, focussing on customer care and top quality service.
For inexperienced divers the Similan Islands still offer some of the best conditions in Thailand. Crystal clear visibility, stunning underwater topography and a large diversity of reef fish and coral life make a perfect environment for learning to dive. In recent years the Islands have lost some of their former shine. The South East Asia Coral bleaching in 2010 and unsustainable fishing practises have taken their toll on the area, once ranked in the top 10 dive destinations in the world.
Experienced divers prefer Richelieu Rock to any other dive site. This 2012 CNN Top 10 ranked site still offers the best diving in Thailand and for this reason Thailand Dive & Sail have expanded their weekly schedule to include Richelieu Rock every day except Mondays.
Diving from Khao Lak:
Khao Lak is the closest point of access to the Similan Islands and Richelieu Rock. Regarded as one of Thailand's most tranquil holiday destinations, Khao Lak's wide golden beaches and lush rainforest covered hills make the town an ideal gateway for day and liveaboard trips to the Similans or unique local diving activities. 
Visitors looking for the most convenient Khao Lak diving choose the popular Boonsung Wreck trips. This relaxed Thai adventure starts from one of the area's most beautiful beaches, White Sandy Beach, on a traditional Longtail boat. The Boonsung Wreck itinerary includes two dives, a delicious buffet Thai lunch, free Nitrox and beach time at the end of the day for a refreshing drink while logging dives.
Introducing New Khao Sok Lake Diving Activities for 2012:
Nature lovers wishing to combine diving with land excursions now have the opportunity with the launch of new trips to the Cheow Lan Lake. The lake was formed in the heart of Khao Sok National Park, a stunning location of limestone cliffs, abundant nature and calm still waters, by construction of a dam.
These new dive trips offer the complete Khao Sok experience: exploration of both the fascinating nature on land and the intriguing underwater side of the lake. Take a sunrise safari by Kayak across the lake as the wildlife wakes up, then in the afternoon dive amongst cliff edges, caves and forests that plunge into the depths of the lake.
 
Khao Sok Lake, home to a large and intricate cave system, provides an ideal location for cavern diving and courses for those wishing to get a taste of the dark side. Entry level courses are conducted within the light zone of the caves under close guidance of a professional cavern instructor and do not require any specialist equipment.
The start of the dive season 2012-2013 is here and it is set to be a varied and fascinating one, full of exhilarating dives, discovery and new adventures. Dive with a Smile ;)