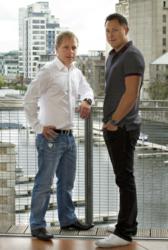 We have invested two million dollars into developing this technology, and want to get the word out that it's available.
Dublin (PRWEB UK) 16 October 2012
boxPAY, a mobile payments company that allows merchants to charge customers for digital content directly to their mobile phone, is actively seeking to connect with third-party payment companies interested in entering the m-payments space but who don't have the time, investment capital, or expertise to enter the market. Carrier billing works by simply entering your phone number at the point-of-sale on a website and confirming a code sent via text message. Making a purchase through a mobile phone is the perfect way to pay for small and quick online transactions because there is no registration required on behalf of the end-user and a purchase can be completed in a single form. This type of billing is crucial for organizations considering global monetization strategies where credit cards are not prevalent.
boxPAY Co-Founders Gavin and Iain McConnon are looking to license their technology platform and the worldwide connections they have cultivated over the last two years directly to payments companies. Typically, a carrier billing company works with merchants like gaming or dating sites to enable a payment option inside of their website or application. "Now we want to talk to anyone that is interested in carrier billing but doesn't have the time or bandwidth to make individual system connections to telecoms networks. Or maybe they have carrier billing connections, but need to increase their global coverage and reach. We have invested two million dollars into developing this technology, and want to get the word out that it's available" says Co-Founder Gavin McConnon.
boxPAY has been engineered to handle millions of SMS and direct carrier billing transactions daily from countries worldwide. Making connections to new countries for carrier billing can be costly and complicated, but boxPAY has already established connections in 65 countries worldwide. Co-Founder Iain McConnon says, "Why build something that takes this much time and effort, when you can license or buy it from boxPAY."
About boxPAY Ltd.
boxPAY is a mobile payments platform that provides web merchants, game developers, and other e-businesses the ability to charge customers for digital content through a mobile phone instead of a credit card. Customers can make a purchase on a merchant website with no pre-registration required, and the charge is added to their mobile bill or deducted from a prepaid balance. boxPAY utilizes SMS and direct carrier billing, and can be integrated into a merchant website from our user-friendly, self-service website in minutes. boxPAY is connected to mobile carriers in over 65 countries and has offices on four continents.