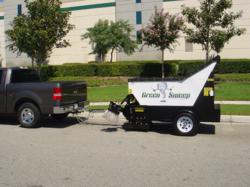 Rialto, CA (PRWEB) October 16, 2012
Green Sweep, the innovative multiuse maintenance sweeper machine, is thrilled to launch the next generation of its eco-friendly street sweeper. Scheduled for release later this year, the refined professional-grade sweeper is sporting an updated design, includes built-in safety features and offers easier accessibility to the panels.
"With the enhanced Green Sweep scheduled to hit distributors this year, the online buzz is ramping up," says Art Zanini, Founder of Green Sweep. "Despite being the only machine of its kind, we priced it affordably at under $20,000. The only alternatives property managers have are either purchasing a $200,000 industrial street sweeper, a $70,000 per year parking lot sweeper, or a never-ending contract for another company to do the job."
Engineered with the unique needs of small to medium sized businesses, schools and municipalities in mind, the multiuse towable sweeper also performs as a debris hauler, garbage dumper and portable AC power source for other landscaping equipment. Outfitted with two powerful spinning brooms, an 4,000-lb. capacity electric lift bin, a durable snap-on cover and a retractable power cord, the Green Sweep is a highly efficient tool. The resourceful electric sweeper easily tackles pathways, parking lots, private streets, sidewalks, quads and even the tightest curbsides, making it a perfect fit for school campuses, apartment complexes, churches, garages, hospitals or mobile home parks.
The ingenious Green Sweep is developed by Art Zanini and Richard Pickens, who have half a century of combined experience creating battery-powered equipment. Earth-smart and nearly silent, the Green Sweep runs on a low-maintenance electric motor. This solution not only eliminates the need for costly fuel, oil changes and costly maintenance, but it also reduces noxious emissions and silences the disruptive noise that traditional sweepers generate.
The Green Sweep, which is so lightweight that it can be towed by an electric utility cart, is American made and backed by a bumper-to-bumper warranty for 12 months.
For more information about the innovative Green Sweep, visit http://www.GoGreenSweep.com or call (909) 731-4060.
About Green Sweep
Green Sweep was founded in 2010 by Art & Richard, both consummate professionals in their respective trades. With over 50 years of experience between them, Art and Richard conceived an all green, detachable sweeper to fill the void.