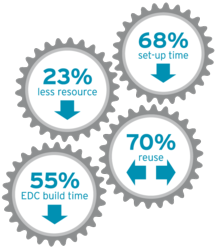 Huge opportunities exist to make CDISC-ODM the interchange format of choice between CROs, sponsors and sponsor regulators.
Formedix, Burlington, MA (PRWEB) October 15, 2012
CDISC International Interchange October 22-26, 2012. Booth #19, Baltimore, MD, USA
Formedix will be heading to Baltimore, MD next week to join the fellow CDISC experts at the CDISC International Interchange 2012.
The CDISC International Interchange gives previous attendees and newcomers the chance to hear from patient advocates, stakeholders and industry and regulatory leaders about the value of standards for accelerating new therapies for patients, as well as to gain first-hand knowledge of current and future CDISC team activities.
Formedix delivers solutions to top Pharmaceutical, Biotech and Contract Research Organizations (CROs), all based on CDISC standards, saving time and money at every crucial stage of the clinical trial process, from study set-up through to submission. It is therefore, the perfect opportunity to come and chat to the specialists in these standards and the theme 'Accelerating Therapies through Standards' is particularly relevant.
With Dr. Janet Woodcock from the FDA, as one of this year's keynote speakers, it is pertinent to mention that in November, Formedix will also be participating at the meeting entitled 'Regulatory New Drug Review: Solutions for Study Data Exchange Standards.' Formedix will be attending the meeting and contributing to pre-meeting questions, actively supporting CDISC ODM (Operational Data Model)-based standard for study data exchange. Formedix is heavily utilizing the standards at every stage of the end-to-end clinical trials from upfront data collection using ODM and CDASH, through to submission of data using SDTM and Define.xml (CRT-DDS).
Formedix CEO, Mark Wheeldon explains "We have used CDISC-ODM throughout the end-to-end clinical trial process to optimize study start-up, for data collection and interchange and in archival and warehousing solutions. This standard is robust, flexible and brings demonstrable time and cost savings across the end-to-end clinical trial." Mark further comments "CDISC-ODM is supported by all the major EDC vendors and was adopted without the need for regulation. Huge opportunities exist to make CDISC-ODM the interchange format of choice between CROs, sponsors and sponsor regulators. Currently, datasets are favored for much of this interchange and whilst this will not change anytime soon, today huge efficiencies in the creation of SDTM datasets can be made by using CDISC ODM data and metadata as the source."
If you are interested in speaking directly to one of their CDISC consultants then contact them now to arrange a demo at the booth or a time to chat over a coffee during the session breaks. They'd love to hear from you!
For more information and to view the full conference program, visit the event website.
About Formedix
Formedix clinical trial automation software and services enable you to remove manual, expensive, inefficient and labor intensive tasks from study set-up, EDC build, validation and submission publication processes.
In fact, across every area of your end-to-end clinical trial, the time and cost savings they deliver speak for themselves and continue to do so time and time again.
Formedix saves 68% in set-up time and 55% in EDC build time. With 70% reuse of your content, resources are cut by 23%. It's all in the numbers.
Your Clinical Trials Automated. Everywhere.
About CDISC
CDISC is a global, open, multidisciplinary, non-profit organization that has established standards to support the acquisition, exchange, submission and archive of clinical research data and metadata. The CDISC mission is to develop and support global, platform-independent data standards that enable information system interoperability to improve medical research and related areas of healthcare. CDISC standards are vendor-neutral, platform-independent and freely available via the CDISC website.