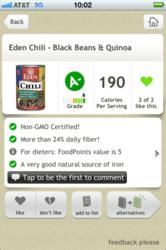 Starting today, consumers will be able to see updated GMO information for each product they scan and view using Fooducate
San Francisco, CA (PRWEB) October 16, 2012
Proposition 37 is one of the hottest topics in food news these days. On election day, California voters will decide whether foods manufactured with GMO ingredients (Genetically Modified Organisms) will require special labels or not. Despite massive funding by junk food and chemical company lobbies to oppose the proposed ballot, polls are showing that a majority of California residents intend to vote YES on Prop 37.
Fooducate supports Proposition 37 and believes that informed consumers can make better choices for themselves and their families. But even after a victory next month, it will take quite some time for products to actually be labeled in California, not to mention the rest of the country.
That's why we are proud to announce a new feature on our iPhone app and website. Starting today, registered users will be able to see updated GMO information for each product they scan and view.
This is in addition to Fooducate's nutrition ratings, based on scientific algorithms that generate a letter grade (A, B, C, or D) for each product viewed. Fooducate points out the pros and cons of products, uncovering excessive sugars, hidden trans fats, dubious additives, and now, GMOs.
Identifying GMOs with Fooducate:
Registered users of the app and/or website should turn the GMO option in their profile - "Warn me about GMOs" - to ON. Henceforth, all product views will include GMO information when it is available:
1. Products that are Non-GMO will appear with an all clear Non-GMO label
2. Products whose ingredients include likely GMOs, for example corn and soy, will be labeled as GMO - High Probability.
3. Products whose ingredients include potential GMOs, such as beets, will be labeled as GMO - Medium Probability.
4. Users that prefer a product that is non GMO can tap the alternatives button to choose similar, but non-GMO products.
About Fooducate
Fooducate's goal is to help millions of shoppers choose healthy, tasty, and affordable food, and to affect positive change on the food industry. The company's mobile apps, website and daily blog help people find better food at the supermarket.
Fooducate's mobile app was first place winner in the U.S. Surgeon General's Healthy App Challenge earlier this year. Its iPhone app was selected by Apple as Best in Health & Fitness category. Fooducate is also available for Android and on the web. Additional versions, for gluten and allergies, as well as diabetes, are available for download from the iTunes App Store.
For more information, please visit http://www.fooducate.com