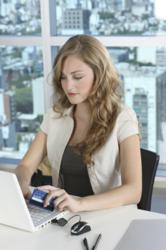 One post on REKRUTR quickly spreads from our networks to your networks, and suddenly; it's viral.
Indianapolis, IN (PRWEB) October 16, 2012
Amy McDonald, REKRUTR's newly appointed president is a 20 year veteran in the recruitment industry. McDonald said Tuesday, "We are pleased to offer our users a new affordable solution for managing unlimited internet job posting. We've thrown out the old ideas of job slots and resume views. We let the internet do the work. One post on REKRUTR is shared with our network, our network's network, and the user's network. Suddenly; it's viral."
"Incorporating social recruiting is critical in today's job market," sites McDonald. "Social networking has become a major player in job search." REKRUTR research found that over 36 million Americans say they found their current position as a direct result of Facebook, LinkedIn, or Twitter. 92% of employers are either using or plan to use or plan to use social networks for recruiting this year. REKRUTR includes social network posting from the recruiter's dashboard at no additional cost.
"REKRUTR is so powerful and we are just getting started, "said McDonald. " We are already working on enhanced features and mobile access that will make this product essential to every recruiter."
ABOUT REKRUTR
REKRUTR is based in Indianapolis, Indiana. Their original concept to use the internet to essentially send a job post "viral" began in 2011. Their team is now comprised of former recruitment executives and an extraordinary team of design savvy developers working on-site and remotely throughout the state.
REKRUTR's mission is to provide recruitment professionals with a fast and easy way to distribute job posts on the internet. REKRUTR believes in creating an open, engaging relationship with their end user by providing unparalleled customer service and constantly striving to employ the best technologies in recruitment.