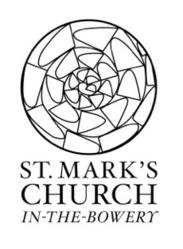 I'm honored to be installed as the Rector of this historic, welcoming, progressive, diverse and high-energy church. I look forward to continuing to grow with St. Mark's. — The Rev. Winnie Varghese
New York, NY (PRWEB) October 16, 2012
St. Mark's Church-in-the-Bowery, one of New York's most historic Episcopal churches, will install The Rev. Winnie Varghese as Rector at a special service at 11 a.m. Saturday, Oct. 20. The Rt. Rev. Barbara C, Harris, the first woman ordained bishop in the world-wide Anglican Communion, will preach and The Rt. Rev. Andrew M.L. Dietsche, Bishop Coadjutor of New York will preside. Varghese will be the church's first Rector in 23 years—and the church's first female rector in its history. The church, which has design contributions from a long line of notable architects, has been the site of continuous Christian worship for more than 350 years and is New York's oldest site of continuous religious practice.
Varghese joined St. Mark's in 2009 as the pastor and priest-in-charge. Under her leadership, the church has experienced rapid growth, even as studies show that religious affiliation is falling. The Pew Forum on Religion & Public Life released a study this month showing that one in five adults has no religious affiliation, but the St. Mark's congregation continues to add members, defying national trends in the heart of New York City. The church practices ancient, modern, soulful Episcopal worship, and Varghese says the church's increased focus on worship is the reason for its growth.
"I'm honored to be installed as the Rector of this historic, welcoming, progressive, diverse and high-energy church," Varghese said. "I look forward to continuing to grow with St. Mark's by embracing its tradition of supporting diversity, arts and social justice and by providing members a welcoming environment to grow spiritually."
Varghese was ordained in the Diocese of Los Angeles and has served as the Episcopal Chaplain at the University of California, Los Angeles (UCLA) and Columbia University. She is a graduate of Southern Methodist University and holds a Master of Divinity from the Union Theological Seminary in New York. Varghese is a recognized leader in the progressive, religious, social justice movement and a frequently published writer on the topic. Her pieces have appeared on the Huffington Post, in Witness Magazine, in Episcopal Life and more.
"The St. Mark's congregation has a wonderful culture of applying its faith by serving others, advancing social justice and opening its arms to everyone," Varghese said. "We have good news to share, particularly for those who have felt ostracized from the church because of who they are and who they love. That's why so many individuals of faith have felt a connection to St. Marks throughout our history, and that's the path I'll continue to forge for our future."
Varghese served on the Executive Council of The Episcopal Church (2006-2012).
Recently, Varghese was chosen to visit Derby, England, and Mumbai, India as part of an 8-member team from the New York Diocese. As part of the team, Varghese was tasked with understanding how specific cultural, political and social issues affect each diocese to help steer future church leadership. In recent years, Varghese was also asked to present at a conference for Christians working with people living with HIV/AIDS in Chennai, which explored a Christian perspective on sexual minorities.
St. Mark's Church-in-the-Bowery holds a unique position in its East Village community. In addition to providing spiritual leadership, the church has a long history of connecting the arts and spirituality and of pursuing social justice and community empowerment through worship, music, poetry, theater and dance. It carries on that tradition today by partnering with three progressive arts projects: Danspace, Incubator Arts and The Poetry Project to create daily opportunities for arts, activism and spiritual renewal for New Yorkers.
Earlier this year, St. Mark's was chosen to participate in the annual Partners in Preservation contest for a grant to restore its historic iron portico. The church was awarded a $135,000 grant and is in the process of restoring the portico.
###
St. Mark's Church-in-the-Bowery is located in New York City's East Village at the intersection of 10th Street and Second Avenue. The property has been the site of continuous Christian worship for more than three-and-a-half-centuries and is the second-oldest church building in Manhattan. The church's buildings and burial grounds were designated a New York City Landmark in 1966, and the site is listed on the National Register of Historic Places.