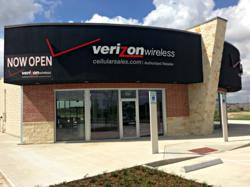 "We hire sales representatives who put customers first. It's the most important trait for a good wireless expert."
COLLEGE STATION, Texas (PRWEB) October 16, 2012
Cellular Sales, the nation's largest Verizon premium wireless retailer, recently announced the grand opening of a new store at 4420 State Highway 6 in College Station.
"We hire sales representatives who put customers first. It's the most important trait for a good wireless expert," said Bobby Penny, regional director at Cellular Sales. "We can teach anyone about devices and the latest sales techniques, but hiring folks with good hearts is the key to success."
Cellular Sales was founded in Knoxville, Tenn. 19 years ago and has, for the past five years, been named by Inc. Magazine one of the nation's fastest growing privately-owned retailers, operating more than 540 stores with nearly 4,000 employees. The company currently operates 60 retail locations in Texas.
According to Nielsen reports, more than 46 percent of Americans own smartphones. As mobile devices become more complex, educating each individual about different devices and capabilities becomes more important. This is the reason Cellular Sales has dedicated itself to providing one-on-one service for customers, so they can receive that one-on-one education.
"There are plenty of reasons why our company is growing, but the most obvious reason is the personalized customer service," Penny said.
The College Station store is currently hiring eight new sales positions, which will be filled by local job seekers.
About Cellular Sales
Cellular Sales, based in Knoxville, Tenn., is the nation's largest Verizon premium wireless retailer. For more information about the new Cellular Sales store located on 4420 State Highway 6, call Bobby Penny at 713-906-3032. Job seekers may visit http://talent.joincellularsales.com/. For more information on the company, visit http://www.cellularsales.com.
# # #