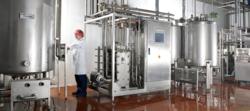 Experts in Process Engineering
(PRWEB UK) 16 October 2012
Gemak UK was chosen by the multi award winning dairy Fresh Pastures CIC to design, manufacture, automate, install and commission a 10000 lt/hr milk and cream processing plant earlier this year.
The project was awarded to Gemak UK having been successful over competition on key aspects, namely quality, lead time, price, flexibility, technology and service. Gemak has been competitive even when compared to the second hand equipment market.
Gemak design and manufacture world class equipment and engineered solutions for dairy, processed food, beverage and chemical sectors.
Design and equipment selection:
Gemak was asked to design all aspects of the project within a low height, existing building as layouts, flow diagrams, P&ID and 3D design for water, ice water, air, electrics, steam, product and C.I.P lines.
The individual equipment and tanks were designed to fit and work comfortably within the existing building.
Automation:
Gemak software and mechanical engineers worked closely with Fresh Pastures production and quality systems team to design the automation flow and software to exacting needs which allows a single person to operate the milk reception, milk and cream processing plant from 4 different control points. Gemak software engineers have a direct line to Fresh Pastures automation 24/7 and are able to rectify issues within minutes and make any required changes.
Testing and Commissioning
The equipment, produt and C.I.P lines were connected and tested at Gemak's factory before being dismantled for shipment. This allowed Gemak to finish and commision the equipment, product and C.I.P stainless steel lines within 15 days of the site works team arriving on site.
Gemak's expertise in cost effective design, bespoke manufacturing, automation , installation and service has allowed them to be "the turnkey solution partner of choice" for hundreds of plants around the world.
The decision to introduce Gemak to the UK and European market was made as part of our long term plan back in 2009. The preparation prior to the expansion has involved a significant investment of a new state of the art production plant, head offices, fabrication equipment and human resources capable of performing all of the key tasks in house that are crucial to creating, monitoring and maintaining a turnkey plant. This unique offering allows Gemak to offer full control, flexibility and accountability from the initial idea to the finished product as the "One Stop Shop".
Gemak has teamed up with multinational industry leaders such as Alfa Laval, ABB, Andritz, Samson, Siemens, Festo, KSB as solution partners and suppliers who are present in the markets we supply.
The UK team is being led by Kursat Uysal from Gemak UK office, who has years of experience in Food processing and packaging, specialising in the dairy sector.