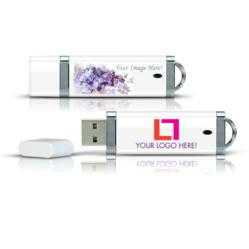 QuickTurnFlash.com was the lowest price I could find on the internet, had the fastest deliverable AND the best customer service. What else could I ask for? Ryan M.
Branford, CT (PRWEB) October 16, 2012
Everyone loves to save money. When comparing products, price matters. Custom flash drives are no different. Quickturnflash.com offers cheap flash drives available to ship in as little as one business day. These affordable flash drives come in a variety of colors, styles and capacities to suit any style and fulfill any need – all at the right price.
When working within a budget, price matters. Inexpensive USB drives with one or two sided personalization allow for businesses large and small to find flash drives at the right price. These low priced flash drives are great for brand promotion – what better way to advertise than by giving customers a useful tool they will use in everyday life? Flash drives are also great client appreciation gifts or trade show giveaways. Many businesses use flash drives to store important projects and transport the information from home to office to the big meeting and presentation. With so much of business now done on computers, a quick and easy way to store and transfer data is crucial to daily life.
Quickturnflash.com offers cheap flash drives in a wide range of styles to fit the branding and look of the person or organization utilizing them. Choose from elegant wood drives, colorful swivel drives, wristband flash drives, thumb drives, and more! Each style has multiple color options and most are fully customizable. Many styles can have one or two sided engraving. Some styles can also be screen printed or have full color printing.
With all of the conveniences of the modern world, it has become commonplace to have things done quickly and efficiently. Quickturnflash.com has many cheap USB drives that are available to ship quickly, some in as little as one business day.
Why exchange quality, style options for price or fast turnaround times for price? With Quickturnflash.com's low prices, cheap flash drives that ship from stock and are available for personalization, none of these great qualities have to be sacrificed!