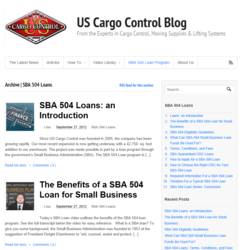 We're often asked how we used the SBA 504 program, so we thought creating a series of videos would be a great way to share what we've learned about the program and process.
Urbana, IA (PRWEB) October 17, 2012
Construction crews have been busy at Urbana-based Clickstop, creating a 42,750 square foot warehouse addition for the e-commerce company. Inside, Clickstop's marketing department has been busy as well, creating a video series for its US Cargo Control blog about the federal loan program that helped make the expansion possible.
The growth of Clickstop and its flagship brand, US Cargo Control.com, in particular, has fueled the need for extra space. The addition marks the second major building project in less than two years. In 2010, construction began on the company's new headquarters in Urbana's industrial park on Blue Creek Drive and employees moved into the facility in March of 2011. That building was made possible in part by a program sponsored by the Small Business Administration (SBA), called the SBA 504 Loan Program. The program provides small businesses with long-term, fixed-rate financing, so they can modernize or expand facilities or machinery. When it came time to expand the company's space for a second time, the 504 loan program was again utilized. Ground was broken for the expansion in July; the space is slated to be finished in December.
Clickstop CEO Tim Guenther, who began the start-up company in 2005 selling tie down straps, moving supplies, and other cargo control products on its USCargoControl.com website, said the SBA 504 loan program has been so helpful in his company's continued expansion, he wanted to share information about the program with other entrepreneurs and small business owners.
"We're lucky that our CFO, Todd Kuennen, was previously in the commercial banking field," said Guenther. "His extensive knowledge about the program is what enabled us to pursue the financing and keep the process moving smoothly."
The series includes 11 videos that cover everything from eligibility guidelines to how to apply for a SBA 504 loan. While the video series is different from the company's typical how-to videos on topics from lifting slings to rigging supplies, the process has been exciting and rewarding, says Guenther. 
"We're often asked about how we used the SBA 504 program, so we thought creating a series of videos would be a great way to share what we've learned about the program," said Guenther.  "We really hope it can help other small businesses learn about the program and navigate the process from beginning to end."
About Clickstop, Inc. 
Clickstop is the parent company of a suite of online retail stores based in Urbana, Iowa. Focused on offering relevant products, timely delivery, and excellent customer service, Clickstop web properties serve diverse markets that include the moving and cargo control industry, energy efficient insulation products, home organizing solutions, and personal fashion and styling. For more information visit http://www.clickstop.com.