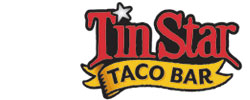 Dallas, TX (PRWEB) October 16, 2012
In 1999, the first Tin Star Restaurant opened in downtown Dallas, guided by the philosophy of offering great Mexican food in an engaging atmosphere. The Mexican restaurant's owners set out to offer food that is uniquely different, aggressively flavored, and worth coming back for time and again. Today they are continuing that successful business plan with their Healthy Stars menu, which is geared toward those looking for healthier options.
"At Tin Star we are excited to be offering low-calorie, gluten-free, paleo friendly menu choices that do not sacrifice on our philosophy of aggressive flavor," said Michael D. Rangel, Tin Star brand owner and president of M.D. Rangel Enterprises. "We remain committed to food that both excites the palate and meets the needs of today's health-conscious diners."
Some of the selections that diners will find on the Healthy Stars menu include the Hayworth, a 212 calorie meal featuring grilled chicken, fresh avocado and sauteed onions served in a fresh lettuce cup with a side of steamed broccoli. The Hayworth is both gluten-free and paleo friendly.
For seafood lovers the Teeny Bikini offers grilled tilapia and coleslaw, while those who prefer robust salads will appreciate the Chicken Little Salad. The Chicken Little includes grilled chicken, fresh avocado, crumbled bleu cheese, diced eggs, chopped tomatoes and mixed greens.
In addition to the Healthy Stars menu, Tin Star has plenty more to dazzle your taste buds and arouse your senses. The restaurant features the best margaritas north of the border, thick soft-flour tortillas that will make your mouth water, and creative flavors you might not expect in a casual dining atmosphere. Best of all, with eight locations around the Dallas area there is likely a Tin Star Restaurant near you and chips and salsa are free. For complete information about Tin Star Restaurant, visit their website at http://www.tinstardfw.com.
About the company:
Tin Star opened its first location near Downtown Dallas in 1999 with the vision to deliver great food, value priced, in an engaging atmosphere - quick. Tin Star keeps Guests coming back with spirited, aggressive flavor profiles and uniquely different food that's addictive. Tin Star's menu has a Southwestern orientation that includes the flavors of Texas and beyond, but the principal ingredient in Tin Star's food and in their people is integrity. Though quick preparation and delivery is certainly a focus, every menu item is made from scratch on site with high-quality, fresh ingredients. For more information, please visit their website at http://tinstardfw.com.