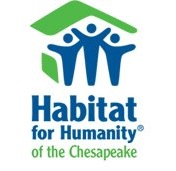 (PRWEB) October 16, 2012
From 9 a.m. to 5 p.m. on October 20, Habitat for Humanity of the Chesapeake Restore locations in Halethorpe, Pasadena and Dundalk will host a storewide sale to support a Habitat-sponsored home under construction in Baltimore's Orchard Ridge community. One-hundred percent of the sales from the Saturday event will be poured back into the ReStore-sponsored home, which will be dedicated to its new homeowner in early December. As a further incentive for shoppers, the stores will also offer 50% off all lighting and 20% off all donated items.
All three ReStores offer a broad selection of building materials, appliances, furniture, cabinets, flooring, lighting and plumbing materials that are sold at deep discounts to the general public. Profits from the store enable Habitat for Humanity of the Chesapeake to offer affordable homeownership opportunities in the greater Baltimore metropolitan area and in Anne Arundel and Howard Counties.
In addition to supporting the Orchard Ridge home financially, ReStore employees and volunteers are taking part in volunteer builds, dedicating their time and construction skills to this home project. The sponsorship of the Orchard Ridge home is also enabling ReStore employees and volunteers to see first-hand how daily sales from the stores change lives and rebuild hope through homeownership.
Funds raised from the October 20 sale will be used to purchase the remaining materials needed to see the Orchard Ridge home through to completion. Shoppers are encouraged to come out and support this sale event at one of our ReStore locations:
Dundalk ReStore
505 Kane St.
Baltimore, MD 21224
410-633-0505
Pasadena ReStore
8101 Ft. Smallwood Rd.
Pasadena, MD 21226
410-437-7755
Halethorpe ReStore
3741 Commerce Dr., #311
Halethorpe, MD 21227
443-297-5141
For more information about the fundraising sale, featured items or ReStore volunteer opportunities please visit the ReStore website.
About Chesapeake ReStore
In June 2003 we opened the first ReStore in Anne Arundel County, followed by the first ReStore in Baltimore City in April 2008. In August 2011 we opened our first ReStore in Baltimore County. The mission of Restore is threefold: to generate income that enables Habitat for Humanity of the Chesapeake to create affordable homeownership opportunities in Baltimore, Anne Arundel County, and Howard County, to serve the community by providing quality products at affordable prices and to preserve our environment by keeping reusable items out of our landfills. The ReStore accomplishes this mission by accepting donated building materials, appliances, furniture and more and reselling them to the general public. 100% of profits go to support Habitat for Humanity of the Chesapeake.
About Habitat for Humanity of the Chesapeake
Putting faith into action, Habitat for Humanity of the Chesapeake brings people together to build decent, affordable homes that change lives, empower families and strengthen communities. Habitat for Humanity of the Chesapeake serves Anne Arundel County, Baltimore City, Baltimore County and Howard County. Call 410.366.1250 or visit http://www.habitatchesapeake.org for information. "Like" us on Facebook, follow us on Twitter, read our blogs, join us on Pinterest, and check out our YouTube channel.