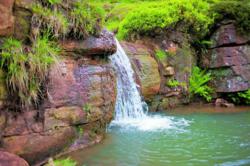 Trying to keep the children occupied during rainy days is always a challenge
Peak District, UK, 17 October 2012. (PRWEB UK) 17 October 2012
Whatever the weather, Peak District Online announce new sections open for viewing, dedicated to enjoying the wet weather while on holiday in Derbyshire.
"We aren't as bad as the Lake District for our annual rainfall figures," explains Steve Wake, director and landscape photographer for Peak District Online, the winning website dedicated to Derbyshire.
"We do, however, come quite close though and living and working in the Peak District for most of our lives, we often take the rain for granted. What we don't do, is take for granted our mission, which is to find the latest Peak District news and information on behalf of holiday accommodation owners, but more importantly, to provide visitors arriving to the Peak District and their holidays, a guide of what they need to know, where they can go when it is raining, and what they can see without getting wet."
Not only are they are experts in providing the largest list of holiday accommodation tourists wanting to stay in the glorious Peak District, but the team at Peak District Online have grown their site to include anything relevant and interesting to any visitor thinking about staying in delightful Derbyshire. Brand-new pages dedicated to enjoying the wet weather while on holiday have just been have added, to coincide with the arrival of the autumn half term break at the end of October.
"Trying to keep the children occupied during rainy days is always a challenge for any parent, but particularly more so if you are coming to an area you don't know or have never been to before. This is where we come in," says James Dobson, fellow director and wildlife photographer for Peak District Online. "We are a family run company here, and we have young children ourselves and have experienced the same problem when we go to different places in the UK. We take pride that we put ourselves in parents' shoes and think about life from a child's perspective, trying to always source new places to go and things to see when the weather isn't so kind."
What started life as a small business directory listing the various types of holiday accommodation covering the entire Peak District area, has now grown into a huge website visited by over 200,000 people, by residents of the area but also visitors who would like to stay on holiday in Derbyshire.
"The rain is what makes our gorgeous part of the world so lush and green, so we can't complain about the inclement weather, but we understand that having a holiday here can sometimes be miserable if you don't know where to go," says Steve." Our new pages not only highlight different indoor attractions, but for those who are on a budget, and especially in this very hard economic climate, we understand that cash is not something that can be splashed around easily for some. We have showcased some wonderful wildernesses in the Peak District, which will make a great adventure for all the family and cost sometimes only the car parking charge and the price of a picnic. Our wet weather guide includes places with gorgeous caves and caverns to take shelter from the rain, streams to paddle in wellies, and there's usually a lovely cafe or pub to sit back in and get warm and dry in nearby."
The new pages go online today at http://www.peakdistrictonline.co.uk.