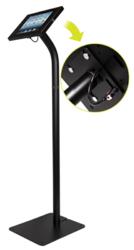 The marriage between ArmorActive's QuickStand and the Kensington ClickSafe Lock is a natural.
Salt Lake City, UT (PRWEB) October 17, 2012
ArmorActive Inc., the industry leader in tablet security for business, has built a strategic alliance with Kensington, the world leader in locking technology for mobile devices. This partnership allows ArmorActive to offer customers an unparalleled security upgrade to their new tablet kiosk product lines. ArmorActive's QuickStand is the first tablet kiosk stand to integrate a Kensington ClickSafe® keyed lock. The ClickSafe lock is the strongest mobile lock of its kind, providing convenience without compromising security. The intelligent lock offers a master keyed option, which provides iPad kiosk managers with admin access to all associated locks. ArmorActive will also now be able to offer their customers the ability to register each key individually, as well as sign up for a free key replacement program through Kensington.
The ClickSafe locking technology will roll out for the first time on ArmorActive products with the new QuickStand iPad kiosk. Following years of iPad security product development, market research, and customer feedback, the QuickStand provides unique features such as tool-less assembly, height adjustability, a quick-release head mount, and optional caster wheels. The tool-less build feature provides for the most efficient and convenient assembly possible, resolving many frustrating and time-consuming problems by eliminating the need for matching tools with screws and other components. This is especially critical when at an event or trade show, where resources are limited and schedules are tight. The QuickStand makes set-up and take-down the easiest they can be.
"The marriage between ArmorActive's QuickStand and the Kensington ClickSafe lock is a natural. Adding to QuickStand's already impressive list of features, our ClickSafe Lock will provide extra piece of mind while on the road at a trade show or event." Says Rob Humphrey, Director, Global Business Development, Security Products, Kensington.
The selectable height feature on the QuickStand allows users to assemble the stand on a table or as a floor standing unit. There are also two intermediate heights that work great in schools, hospitals, and non-profit organizations where kid-friendly heights are needed. And when the tablet needs to be on-the-go, the quick-release mount allows for ease of mobility with the turn of a key. Alternatively, threaded VESA mounting on the stand head allows for optional fixed mounting in a permanent location.
"Security is our customer's highest priority, and therefore ours as well. This is why we manufacture our products domestically, with the strongest metals and now the best locks," says Scott Paul, Founder of ArmorActive. "Our partnership with Kensington shows our relentless commitment to raise the standard on security in the iPad kiosk industry."
The new ArmorActive QuickStand with the Kensington ClickSafe Lock is currently available for pre-order on iPadEnclosures.com and TabletEnlcosures.com, along with ArmorActive's full array of secure tablet display stands and accessories.
About ArmorActive Inc.
ArmorActive is a Utah based tablet security solutions company. Unique in the industry, ArmorActive provides a team of Solutions Architects, educated on the latest tablet kiosk solutions, to help businesses make the best decisions at all phases of their tablet deployment projects, from procurement to implementation.
About Kensington
Kensington, a leader in smart. safe. simple.™ accessories. Kensington Computer Products Group, headquartered in Redwood Shores, California, is the technology division of ACCO Brands. For more information, visit http://www.kensington.com. Kensington and ClickSafe are registered trademarks of ACCO Brands. Covered by one or more of US Pat. No's D661,975; D660,682 S; 8,042,366; D651,889; 8,001,812; 7,997,106; 6,081,974; 6,317,936; 7,415,852.