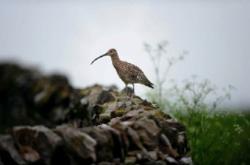 The curlew is the latest bird to fly into the website dedicated to all that is Peak District
Peak District, UK, (PRWEB UK) 16 October 2012
"If you were driving through the Peak District and happened to see a beautifully striking bird with a curved beak flying alongside your car, you would be forgiven for thinking you had taken a wrong turn," laughs James Dobson, director and wildlife photographer at Peak District Online, the UK's largest online holiday accommodation directory for the area. "A lot of visitors to the Peak District see the gorgeous curlew, and think they have gone the wrong way, imagining these birds as simply coastal dwellers."
The curlew is the latest bird to fly into the website dedicated to all that is Peak District, a bird which is often commonly mistaken as a sandpiper or a snipe and although they are very similar in colouring, these Peak District birds can be found in several areas of the Dark and White Peak - definitely inland.
"Curlews are migratory birds and are characterised by their long, slender down curved bills which they share with their cousins, but they are a very common feature in the wetland areas of the Peak District," explains James. "The curlew call is quite haunting, ringing out across the silent farmland and moors, calling for their mate and if you have ever heard the curlew cry, you won't forget it in a hurry."
James lives and works in the Peak District and started the very popular online holiday accommodation directory, several years ago with his business partner, Steve Wake. Both work alongside their partners in this once small family run business, a business which now attracts over 200,000 unique visitors to their website each month. Both directors run the company with the mindset of helping visitors to the area by not only holiday cottages and other accommodation suitable for their budgets, but also providing lots of information, useful tips and news about places to go and things to do in the area.
"We find out all sorts of diverse things to report on," explains Steve, landscape photographer and director at http://www.peakdistrictonline.co.uk. "James specialises in wildlife photography and the curlew is a stunningly beautiful you page added to a section of the website we are particularly proud of, a section which is dedicated to Peak District wildlife and one which is causing a lot of interest in our readers. It's simply a coincidence that James has photographed a bird, often mistaken for a coastal dweller and I have been photographing the Peak District's seaside town, Matlock Bath."
Listing the largest directory for all types of holiday accommodation throughout the entire Peak District, the team at PDO have made it their mission to find lots of places to go and things to do throughout the whole of Derbyshire. The latest page to grace the Peak District villages section is dedicated to the town that has its own promenade, arcades, ice cream parlours and fish and chip shops.
"Matlock Bath is totally unique and town which can't be compared to anywhere else in the Peak District," explains Steve." It has a very distinct seaside feel and visitors have flocked since the Victoria in times from all over the country to sample the delights of the seaside in the middle of the UK."
See the new pages added to the Peak District's favourite online holiday accommodation directory every week and find out any relevant information for your future holiday, as well is keeping up-to-date with their Peak District cottage last minute deals.