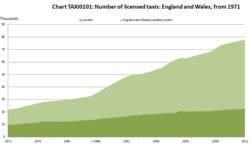 the basic problem, is that there are not enough properly licensed cabs to meet the growing demand in Greater London
(PRWEB UK) 17 October 2012
The report by Flight Center Travel says, that in the UK, as a whole, the number of new taxi licenses approved, has kept pace and in some cases outstripped, the growth in the country's population since 2000, but that in the capital, this has not been the case. Outside London, new taxi licenses rose by 23%, while the population grew by just under 7%. In London however, this was reversed, with the population expanding by 12%, but the number of licenses by only 10%. The shortfall has been filled by unlicensed mini cab drivers and this has led to a high rate of crime.
Despite the success of measures taken by Transport For London and the Metropolitan Police's, Safer Transport Command's, Cab Enforcement Unit (STC), which is responsible for enforcing the law, relating to taxis and private hire vehicles in London, to cut taxi related crimes, the number of incidents, especially assaults, remains unacceptably high, with 111 cab related sexual offences in 2010/11.
Many people believe, the basic problem, is that there are not enough properly licensed cabs to meet the growing demand in Greater London and until the number is increased, crime will continue to grow. The article argues that a new strategy to address the problem, urgently needs to be agreed between TFL and the London Taxi Drivers Association, (LTDA), representing London's licensed taxi drivers. This will benefit responsible taxi drivers and make the public safer. In the meantime TFL's advice to the public, remains that there are still major concerns over the dangers of travelling in unbooked taxi cabs, picked up off the street.
"We have always stood by PCO licensing and believe it is a excellent method to protect customers from taxi related crime, which gives the whole industry a bad name. " - Fleet Travel Solutions.