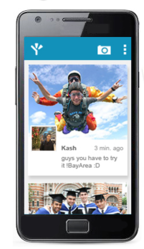 Yadget introduces a new way of sharing online content with the physical world around you.
SAN JOSE, Calif. (PRWEB) October 16, 2012
Cairo-based Yadget, a social network mobile app that lets users tag objects and locations, will launch its beta version Friday at the Global Mobile Internet Conference at the San Jose McEnery Convention Center in San Jose, Calif.
"We saw that a lot of content online was not being linked to real life objects," said Mohamed Kash, CEO and co-founder of Yadget. "Yadget introduces a new way of sharing online content with the physical world around you. Users are able to leave pictures and posts on locations while sharing them on other social networks at the same time."
Yadget works by tagging products, objects and places in any picture, note, or online content. The yadget tags are then linked to a barcode or to a location on a map for others to find and interact with. Users can subscribe to specific objects or places and receive notification when people leave any content at that location.
Brands can use Yadget to aggregate their existing social network posts and leave notes about their products or venues for their customers to find and engage with.
Yadget is currently available as an app for Android and Chrome plug-in.
"We are asking our visitors in the GMIC conference to leave their stamp inside the conference hall telling whoever comes to this place after them that they were there. They will take pictures of themselves and leave them on the map location of the conference. We will also ask them to leave posts on different products for people to see when they scan the barcodes of such products in any place in the world" said Kash. "Launching our beta version at this conference will allow us to demonstrate how Yadget works. Download the app and give it a try this weekend."
Make sure to stop by booth A058 in the App Lounge for a live demo of Yadget.
About Yadget
Yadget is a social application that allows users to leave pictures, notes and any content they see online on top of objects and places in the real world. The Cairo, Egypt-based start-up was part of the Flat6Labs accelerator's second graduating class. Yadget was chosen from more than 200 entrants to pitch at the Global Mobile Internet Conference in Silicon Valley. Yadget is now available to beta users in the Android Market Place and as a Chrome plug-in. For more information visit http://www.Yadget.com.