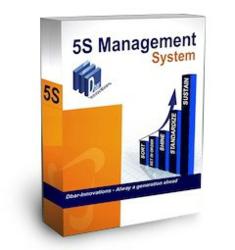 "We implemented a 5s program but we did not have a good way to manage it. The 5S System Management Software is an easy way to manage and track progression. We recommend it for anyone that implements a lean environment."
Lake Oswego, OR (PRWEB) October 17, 2012
Businesses that want to compete in today's market will need to transform the workplace into a lean facility. Leanmanufacturingsupplies.com offers the tools needed to create a lean manufacturing environment. By using the correct tools to create a lean program, a business can achieve reduction in waste which is the basic philosophy behind lean manufacturing. A 5s program incorporates five stages of sort, set in order, shine, standardize and sustain. The Management Software for 5S System is a great tool that will provide a single unit for managing the progress of 5s. The system will allow a single user to input all data and manages all aspects of the 5s deployment from one computer.
Reducing inventory, overtime, lead-time, postponing capital investment and increasing throughput is what businesses will gain by implementing a 5S system to create a lean manufacturing facility. In today's market, competition is everything to become successful. By following the concepts of a 5s program will generate more profit but at the same time will reduce expenses due to unwarranted waste. The 5s System Management Software is like a road map that will give guidance for each of the levels of 5s. It comes complete with printable checklists and audit sheets displaying activities to be completed. Management will have access to see the progress and status for each work area along with viewing how the 5s is progressing. Finance personnel will be able to track and control the movement and disposition of red tagged items. A business owner commented, "We implemented a 5s program but we did not have a good way to manage it. The 5S System Management Software is an easy way to manage and track progression. We recommend it for anyone that implements a lean environment."
Please visit http://www.leanmanufacturingsupplies.com/categories/5S-Items/ or call toll-free (866)777-1360 to learn more about the 5S System Management Software or any lean manufacturing tools.