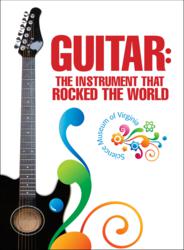 "Not a fan of rock and roll? Don't fret, Guitar celebrates all music - from classic to heavy metal," says Science Museum of Virginia Chief Wonder Officer Richard C. Conti
Richmond, Virginia (PRWEB) October 16, 2012
Explore the history of the world's most recognized musical instrument. Experience diverse genres of music and discover the science of pitch and tone. Crossing over cultural boundaries, the guitar has made a significant impact on a wide variety of groups from gypsies to cowboys to teenage rebels."Not a fan of rock and roll? Don't fret, Guitar celebrates all music — from classical to heavy metal," says Science Museum of Virginia Chief Wonder Officer Richard C. Conti.
See over 60 guitars and nearly 100 historical artifacts that immerse you in the heart of music. Experience the rush of the world's most recognized musical instrument through the powerful lens of science. You, too, can play a Guinness Record-breaking 43.5 foot long guitar. Discover how the selection of different materials and strings, fused with electromagnetism and amplification, create an elaborate device that has revolutionized music. "The guitar is the most enduring icon in American history," says The National Guitar Museum Executive Director and founder H.P. Newquist. "It has been around longer than baseball, basketball, soft drinks and sports cars."
Guitar is included with Museum exhibit admission. Tickets are $11 with $1 discounts
for ages 4-12 and 60+. Science Museum of Virginia, 2500 West Broad Street, Richmond VA, 804.864.1400, http://www.smv.org.