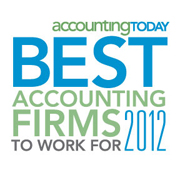 Houston, TX (PRWEB) October 16, 2012
GBH CPAs, PC announced today that the firm has been named as one of the 2012 Best Accounting Firms to Work for. The annual list of "Best Accounting Firms" is determined by Accounting Today and Best Companies Group to identify, recognize and honor the best places of employment in the accounting industry.
David Grossman, Shareholder, stated, "We are pleased to receive this award on a national level for the fourth year in a row. GBH is consistently named among the best places to work. It represents a key indicator that we continue to realize a firm culture built on our promise to offer our employees a dynamic workplace; accelerated professional development and advancement potential; and a supportive team environment. We are committed to creating an environment in which our employees can succeed. We are focused on career development and advancement for our employees with an understanding of the importance of work/life balance. Client service is our first priority. Our employees make the difference and we are proud of them and the positive workplace atmosphere that they help create."
The Best Accounting Firms to Work for list is made up of 100 companies, split into three groups: 47 small-sized companies (15-49 employees), 45 medium-sized companies (50-249 employees) 8 large-sized companies (more than 250 employees). GBH has been named one of the Best Accounting Firms to Work for in the small category.
Accounting firms from across the country entered the two-part survey process to determine the Best Accounting Firms to Work for. The first part consisted of evaluating each nominated company's workplace policies, practices, philosophy, systems and demographics. The second part consisted of an employee survey to measure the employee experience. The combined scores determined the top companies and the final ranking. Best Companies Group managed the overall registration, survey and analysis process and determined the final rankings.
The rankings will be unveiled and published in the December 2012 issue of Accounting Today.
For more information on the Best Accounting Firms to Work for program, visit http://www.BestAccountingFirmstoWorkfor.com.
About GBH CPAs, PC
GBH CPAs, PC (http://www.gbhcpas.com) is an accounting firm specializing in providing audit services for small to medium-sized public companies under SEC rules and Canadian rules and in serving closely-held, private clients. GBH is registered with the Public Company Accounting Oversight Board ("PCAOB") and the Canadian Public Accountability Board ("CPAB") and is a member of the AICPA Center for Audit Quality and the Texas Society of Certified Public Accountants. GBH was selected by INSIDE Public Accounting to the Best of the Best Firms list for 2012. GBH was selected by the Houston Business Journal as one of Houston's FAST 100 Growing Companies for 2012. GBH was also selected by the Houston Business Journal as one of Houston's Best Places to Work for 2010 and 2008 and selected by Accounting Today as one of the 2012, 2011, 2010 and 2009 Best Accounting Firms to Work for.
GBH is a member of Kreston International (http://www.kreston.com), a global network of accounting firms each of which is a separate independent legal entity and as such has no liability for the acts or omissions of any other member firm.