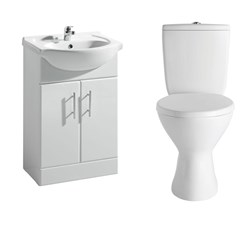 Consumers can browse the best sellers
(PRWEB UK) 18 October 2012
Improving a bathroom can become a difficult task when needing to create an effective and co-ordinated look. This is caused by the extremely diverse range of items that can be purchased in a variety of designs and sizes to cater for anyone individual needs. With this considered the team at Bella bathrooms have made it simpler than ever to find the perfect combination of bathroom products by introducing bathroom suite collections to create a professional appearance.
Consumers can browse the best sellers to gain information about the most popular products available to purchase. This proves a great tool for anyone wanting to gain inspiration when creating their own look. This category contains bathroom sets featuring all key items needed to make up the luxurious final combination. As this is available to anyone, even people with the lowest of designer knowledge can create a stunning overall look.
Within the bathroom suites category available to access on their online bathroom shop, individual toilets and sinks can be accessed. They all feature high quality designs by some of the highest regarded bathroom manufacturers in the UK including RAK Ceramics and Moods. This provides evidence that not only are the items cheap in price, but their overall quality if extremely high and guaranteed to stand the test of time.
The companies range of bathroom toilets feature a variety of styles and designs including both modern and traditional designs. These can be partnered with modern or traditional sinks to create a highly co-ordinated look within the suite. A modern design is perfect for creating a clean and contemporary look with a high gloss white finish. Traditional designs are available for anyone wanting to contain a classic and stylish feel to their room. These wide range of products available shows how the ability to mix and match items allows consumers to create the perfect look to suit your exact taste and desired outcome.
Bella Bathrooms also stock cloakroom suites perfect for home owners lucky enough to feature a toilet downstairs. The popularity of these suites are highly rising within the market and the popularity of having a high quality cloakroom suite is rapidly increasing. It is important that home owners pay as much attention to a cloakroom suite as they do the one upstairs and the wide range of products enables you to create a luxurious look.
For those struggling to create an ordinary and unique design, the company also provide consumers with the ability to browse their range of bathroom suite collections perfect for creating a stunning look. Within each bathrooms suite you can view each individual item vital in building up your room. From there, consumers can decide on exactly what they do and don't want to buy.
About Bella Bathrooms:
Bella Bathrooms is one of the finest UK online bathroom retailers based in the North-East of England and offer continuous great deals of bathroom refurbishments, shower, tower rail and radiator updates, bathroom furniture and various other key elements at prices that are guaranteed to be unsurpassable. The latest updates continuously made have further improved the overall quality and they have set a high standard for things to come in the future.
Bella Bathrooms
Tel:0844 8117 017
Available to contact from 9:00 – 5:30