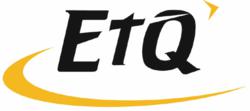 The 3-day conference brought in the highest attendance of any EtQ User Conference to date, resulting in a 20 percent increase over the previous year
Farmingdale, NY (PRWEB) October 16, 2012
EtQ's 16th Annual User Conference proved to be yet another successful event for EtQ, with an unprecedented turnout and EtQ's staple networking opportunities.
The 3-day conference brought in the highest attendance of any EtQ User Conference to date, resulting in a 20 percent increase over the previous year.
Held at the Resort at Squaw Creek in Lake Tahoe, CA, the event was designed as a venue for customers to showcase their innovations, learn about new products and features, and network with their peers. All sessions focused on innovation and increased customer interaction. EtQ kicked off this year's conference with a keynote presentation that unveiled Reliance 10. As it does each year, the conference highlighted innovative customer applications with EtQ's Innovation Excellence Awards.
The conference also included interactive one-on-one sessions, which provided input from various customers across all areas and industries. Following the conference, was EtQ's Reliance Passport, which was EtQ's largest workshop to date. The Passport provided EtQ users with valuable training and knowledge on how best to maximize their investment in EtQ's products and services.
"This year's conference was not only EtQ's largest, it was also the most successful," stated Glenn McCarty, chief executive officer at EtQ. "Many customers plan their year around this event, and not only do they use this time to connect with EtQ, they also schedule their own internal training activities around this event. This is a powerful concept and is one of the reasons why EtQ continues to provide a strong conference program. The conference continues to get exponentially larger, year by year, and we look forward to what 2013 brings and to seeing many familiar and new faces."
Celebrating 20 Years of Excellence
Founded on March 4, 1992 by former lead auditors of Underwriters Laboratories, EtQ has always had a unique knowledge of compliance processes related to Quality, Safety, and Environmental Health and Safety (EHS) Management. This year, EtQ celebrates 20 years of excellence and continues to be the leading Quality, Safety, EHS and Compliance solution provider for identifying, mitigating and preventing high-risk events through integration, automation and collaboration. EtQ encompasses a wide variety of industries, providing solutions for Quality, Food Safety, EHS, Aviation Safety and FDA Compliance Management. EtQ uses best in class integrated modules and enterprise application integration to manage and measure these compliance processes and execute organizational change. EtQ's solution, Reliance, is an enterprise suite of modules designed to foster operational excellence in businesses with modules and utilities such as Risk Management, CAPA, Document Control, Employee Training, Supplier Rating, FMEA, Customer Complaints, Audits, and many more. EtQ has been providing software solutions to a variety of markets for 20 years. For more information, please visit http://www.etq.com.
EtQ is a trademark of EtQ Management Consultants, Inc. All other product names and company names are trademarks or registered trademarks of their respective owners.