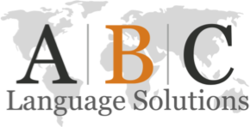 Vancouver, Canada (PRWEB) October 17, 2012
ABC Language Solutions, a leading Vancouver-based translation and international communications agency has launched a three-month translation internship program for senior students and recent graduates who want to challenge themselves in the dynamic field of international business translation.
The internship, which is also open to people considering a career change to translation services, is designed to bridge the gap between classroom education and practical work, and offers candidates the opportunity to gain valuable, hands-on experience in a broad range of topics that will become key differentiators for future employment. The internship covers a wide range of topics that go beyond the translation sector, including but not limited to: translation operations, project management and quality control, CAT tool training, inbound and outbound marketing, web-design, SEO and email marketing and translation services sales.
The successful candidates will work closely with the Company Management, including the Director of Marketing, Director of Business Development and other senior staff on a daily basis. Due to the highly practical nature of the program, the work provided by the interns will directly influence the way in which ABC Language Solutions represents itself to a broad range of local and international markets. Such exposure and responsibility has been integrated into the program in order to provide students and graduates the opportunity to apply their theoretical knowledge in a practical environment. Furthermore it will help them to gain valuable, real-life experiences with a leading ISO-certified translation company, to differentiate themselves from other students and graduates searching for career in the translation industry and to determine whether or not translation is the career path they want to follow in the future. Some of the tasks the successful candidate will participate in include:

Design and production of presentations for major corporations and government agencies
Recruiting, qualifying and managing the selection process for prospective translators
Participating in the coordination of complex translation and interpretation projects
Accessing documents and software
Design the layout of marketing materials that represent ABC Language Solutions' target markets
Updating and improving the company's website, http://www.abc-lang.com
Participating in the writing and development of marketing materials
Research on specific market segments to determine their need for technical, legal and medical translation services
Planning and executing new marketing programs, including measurements and results
Participating in business blogging exercises
In order to apply for the translation internship program, applicants are required to submit a two to three page proposal including how they would approach the program, potential new business opportunities for ABC Language Solutions and why they would be a good fit for the internship. In addition, candidates are required to include a writing sample about translation and a current school or university transcript (for undergraduates) or a resume (for graduate students).
ABC Language Solutions regularly offers direct referrals and staffing services to its clients, therefore potential employment or contract work after the internship has expired may result from exceptional performance.
[Boilerplate] ABC Language Solutions is one-stop-shop professional translation agency based in Vancouver that helps companies across a diverse range of industries succeed in foreign markets by providing fast, quality, culturally sensitive and competitively priced translation and linguistic services.
-ENDS-
If you would like more information about this topic, or to schedule and interview, please contact Vivian Klein or Andrey Bondarenko.