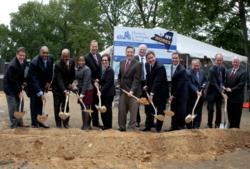 "We are proud to be a part of the revitalization of New Cassel through the development of much-needed workforce rental housing." - Marianne Garvin, President & CEO of CDCLI
New Cassel, New York & Centereach, NY (PRWEB) October 17, 2012
Community Development Corporation of Long Island (CDCLI) and partner Conifer Realty, LLC today joined with the Long Island Regional Economic Development Council to host a groundbreaking ceremony for Cathedral Place Apartments – which was awarded state resources through Governor Andrew M. Cuomo's Regional Council initiative to build 36 units of rental housing in New Cassel, NY.
Cathedral Place Apartments, located at 1000-1036 Prospect Avenue, will house families with a mix of 18 one-bedroom units, 14 two-bedroom units and 4 three-bedroom units within a single, three-story building that will also include community space, a fitness room and onsite management/leasing office. Twenty-two families earning no more than 50 percent of Area Median Income (AMI), approximately $43,000 for a two-person family, up to $53,750 for four- person family, and 14 families earning no more than 60 percent of AMI, approximately $51,600 for two people and up to $64,500 for four people, will have new rental housing as a result of this funding. Rents will be $962 for a one-bedroom, $1,153 for a two-bedroom and $1,327 for a three-bedroom unit.
Due to the collaborative effort of local government and community stakeholders, Prospect Avenue in New Cassel is a vibrant commercial and residential center. Cathedral Place Apartments will revitalize the last vacant blighted site on Prospect Avenue and is the culmination of North Hempstead's decade-long effort to rejuvenate the community.
The Long Island Regional Economic Development Council (LIREDC) awarded CDCLI and Conifer Realty $2,586,743 in funding through New York State Homes and Community Renewal to support Cathedral Place. The project was sponsored by the Town of North Hempstead Community Development Agency (CDA), who owned the land and sold it at a price three times lower than its appraised value. Nassau County, a key stakeholder in the revitalization of New Cassel contributed $720,000 in HOME funds to ensure long term affordability. The Town of North Hempstead has provided a significant reduction in permitting fees for the construction of the project. CDCLI Funding Corporation provided $200,000 of real estate capital from NeighborWorks® America, as gap financing.
About Community Development Corporation of Long Island
CDC of Long Island is a not-for-profit organization that supports Long Islanders pursuing their housing and small business dreams. Since its inception 41 years ago, CDC invests its resources, talents and knowledge in households, small business and communities assisting more than 93,000 Long Islanders and investing 806 million into their communities. Last fiscal year alone, CDC served more than 17,000 Long Islanders investing nearly $85 million into their communities. For more information, please visit http://www.cdcli.org. Friend us on Facebook at http://www.facebook.com/cdcoflongisland and follow us on Twitter @cdclongisland.
About Conifer Realty, LLC
Conifer Realty, LLC is a full-service real estate company that develops, owns and manages high-quality, affordable apartment communities. Since its formation in 1975, Conifer has developed over 200 properties representing more than 15,000 multi-family units, and currently owns and manages more than 120 properties consisting of 8,000 apartments. Conifer believes in making housing affordable without compromising quality, and works closely with local municipalities and partners to provide innovative, state-of-the-art housing solutions for their residents.