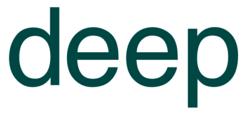 Jeff Houghton's experience offers the perfect balance of practical marketing skills and quick-thinking collaborative creativity.
Springfield, MO (PRWEB) October 17, 2012
The foodservice marketing group deep recently announced the addition of Jeff Houghton to its writing team. To further expand its capacity for great copywriting and product branding, the agency was ready to welcome a writer with a versatile skill set and experience building brands. Deep Vice President / Creative Director Dan Stewart found a match after meeting Houghton and reviewing his portfolio: "Jeff's recent non-profit marketing role for the Community Blood Center of the Ozarks coupled with his writing and entertainment history made him a fitting candidate. His experience offers the perfect balance of practical marketing skills and quick-thinking collaborative creativity—the things we do here every day."
Stewart made it clear that one of deep's major focuses is on interactive marketing solutions. "A major component of online advertising is engaging the audience," he said. "With an extensive background in improv and experience as a comedy writer and successful blogger, Jeff really understands what it takes to achieve that desired level of interaction." Houghton's entertainment portfolio includes writing for his own local television talk show, The Mystery Hour, as well as The Late Show with David Letterman.
In addition to comedy, Houghton has been writing articles and advertisements for a variety of publications for a number of years. He claims that coming from a comedy background gave him a leg up when he first crossed over into writing for product branding and packaging for national brands. He said, "Comedy is all about getting the perfect phrasing for a laugh. It has transferred really well. In particular, improv training has taught me to think about possibilities that aren't cookie-cutter solutions and to look at things from different angles. These are the same skills used in the creative side of advertising."
While Houghton found his non-profit work with the Community Blood Center of the Ozarks, as well as Young Life, to be very rewarding, he felt compelled to pursue the challenge of marketing on a bigger stage.
Deep
Since its founding in 2005, the foodservice marketing group deep has continually created inspired branding campaigns in both B2B and direct-to-consumer advertising. The agency's breakthrough creative engages consumers while ensuring each brand it represents remains top of mind. Independently and completely employee owned, deep is part of the Marlin Network and is headquartered in Springfield, Mo. Marlin Network, which represents over 70 food and beverage brands, consistently remains the number one purchaser of foodservice media. The Network consists of deep, Marlin, Alchemedia Project, Marlin Network Consulting, FoodIQ and STARAwards. As a member of the global Transworld Advertising Agency Network, Marlin Network earned inclusion in Inc. Magazine's 2010 and 2011 lists of America's Fastest Growing companies. For more information, visit deepgroup.com or follow them on Twitter, Facebook, Flickr and the b!eep blog.