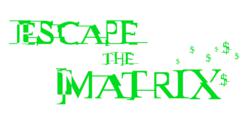 Bringing business success to others is a very satisfying process and I'm happy to pass on what I've learned to other aspiring entrepreneurs
Salt Lake City, Utah (PRWEB) October 16, 2012
Escape the Matrix online marketing whiz Dave Sherwin announced availability of top marketing trade secrets for home and small businesses seeking success tactics with better ROI. These top tips and gold nuggets are downloadable free at http://www.EscapetheMatrix.net . Included are topics like Data Mining, Google Analytics, Keyword Research, Facebook Marketing, Paid Ad Traffic, and SEO—among others.
"Whenever Dave speaks I want to record it because it's always juicy, important information," says John Pilmer of PilmerPR. "This is an amazing online resource for new startups and home-based online businesses."
Social Media and Social Marketing are driving massive change for savvy marketers. New Google search rules make Search Engine Optimization (SEO) more challenging than ever. Dave's online training material offers timely and relevant information equivalent to courses requiring hundreds of dollars—and it is free.
"Small businesses have to stay focused on rapid payback and cost-per-new-customer for each campaign and tactic," said Dave Sherwin, founder of Escape the Matrix. "Bringing business success to others is a very satisfying process and I'm happy to pass on what I've learned to other aspiring entrepreneurs."
The Escape the Matrix blog includes regular updates from Dave. Updated daily, the blog offers fresh and relevant content about online marketing. Dave and his team have a "results only" policy, meaning that they never recommend or teach anything until after they have thoroughly tried, tested it, and seen results, a quality which has become scarce among online marketing gurus. On a more personal note, Dave's legendary nutritional and fitness insights may be found at http://www.DaveSherwin.com .