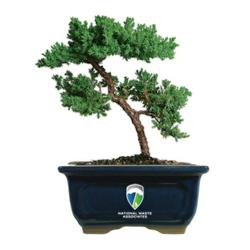 Bonsai trees can be just as easy to order as flowers.
Fitchburg, MA (PRWEB) October 18, 2012
Every company strives to stand out from their competitors particularly with gift giving during the holidays. A compelling new idea for customer loyalty and workforce recognition is the gift of a healthy living bonsai tree! Unlike generic, "mainstream" programs, Bonsai Outlet delivers distinctive, socially-conscious gifts. A living growing bonsai tree is one gift that will never be placed in a desk drawer, but will display your branded logo for a lifetime.
Corporate gift-giving is made easy when ordering through BonsaiOutlet.com, the recognized source for all things bonsai that has safely shipped more than 50,000+ healthy, nursery-direct trees to satisfied customers during their 11-year history. There's no risk, either, since all products are backed by a 100% satisfaction guarantee.
Bonsai Outlet Does It All for You
Bonsai Outlet's green executive gifts can be branded or a personalized with your company logo or business message and is a wonderful way to thank valued clients or recognize employees for their dedication and effort. Bonsai Outlet's Corporate Gift Program offers gift-giving strategies tailored specifically to the needs of progressive companies.
Select the bonsai trees (along with a how-to book and traditional bonsai shears, perhaps), and Bonsai Outlet does everything else, satisfaction guaranteed. Individual gifts can be shipped one item at a time, or an array of targeted gifts can be shipped to multiple addresses.
Personalized, Branded Green Gifts Reflect Corporate Vision
Several options are available for branding corporate gifts such as adding a logo to the bonsai pot, customizing tree care instructions and more. Please phone 877-806-3200 and discuss options with Bonsai Outlet's gift specialists.
Bonsai Outlet's most popular recognition programs include business gifts for every occasion, from the holidays to conference mementos and more.

LOYALTY Thank your valued customers for their patronage with an eco-friendly living bonsai tree.
PEER-TO-PEER RECOGNITION done right! With our revolutionary GIVE-A-TREE platform, employees give and receive recognition. Create a viral culture of recognition within a business.
SALES INCENTIVES the natural way! Recognize the dedication of your long-term employees with successively finer gift categories for increasing sales levels.
SPOT RECOGNITION Develop Managers' Kits with award certificates and let employees choose what they would like within a designated program.
Contact Bonsai Outlet at 877-806-3200 to learn more about eco-friendly recognition programs for your business.
# # #
Bonsai Outlet
Bonsai Outlet is largest and best-known online retail store and supplier of healthy bonsai trees, tools and supplies in the U.S. and Canada. In its eleven-year history, Bonsai Outlet has safely shipped more than 50,000 healthy bonsai trees directly to satisfied customers through a business built on the principles of high quality products, customer service and brand loyalty. For more information phone 877-806-3200 or visit http://www.BonsaiOutlet.com.