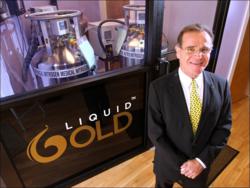 7 out of 10 women are not aware of their breast reconstruction options following a mastectomy
Orlando, FL (PRWEB) October 16, 2012
Dr. Jeffrey M. Hartog, (http://www.lookandfeelbetter.com/) an Orlando, Florida board certified plastic surgeon is an innovator in breast reconstruction. Dr. Hartog and Liquid Gold, are the first U.S. FDA Registered plastic surgery fat bank to use fat removed with liposuction that can be cryopreserved and stored indefinitely for future use in aesthetic or breast reconstructive surgery.
Dr. Hartog, a National BRA Day event sponsor, will host an RSVP event at The Bougainvillea Clinique to join women across the United States in understanding their breast reconstruction options. To understand the impact of breast cancer in the United States- one woman will be diagnosed with breast cancer every three minutes, whereas one woman will die of this devastating disease every 13 minutes. In another report, 7 out of 10 women are not aware of their breast reconstruction options following a mastectomy.
For those that RSVP and attend Dr. Hartog's BRA Day event, you will meet and hear from other women that are benefiting from treatment options such as using and cryopreserving one's own fat as a 100% natural, outpatient, and cost-effective alternative to synthetic implants or other breast reconstruction procedures. The popularity of fat grafting market has grown considerably over the last several years. According to the American Society of Plastic Surgery (ASPS) 2011 Procedural Statistics, fat grafting procedures in the U.S. have increased 19% in 2011 over 2010 with more than 68,000 procedures performed annually.
At the BRA Day event, Dr. Hartog will also share the latest advances in breast augmentation and non-surgical cosmetic surgery. Attendees will learn about a new FDA approved breast implant called "gummy bear" breast implants made of high-strength cohesive gel and found to maintain their shape. Similar to the popularity of using fat to augment or reconstruct a breast, the 'gummy bear' implant offers an alternative to women desiring a more natural look and feel breast implant. Dr. Hartog will also demonstrate the new Vaser® Shape, a combination of ultrasonic therapy and massage to temporarily reduce the appearance of cellulite. The procedure targets those problem areas and is a completely non-surgical and non-invasive procedure.
If you are interested in attending Dr. Hartog's National BRA Day complimentary event on October 17th from 6-9 PM, RSVP now at 407-678-3116. The event will be at The Bougainvillea Clinique located at 4355 Bear Gully Road, Winter Park, Florida 32792. Complimentary drinks and food will be served.
About Dr. Jeffrey M. Hartog and Liquid Gold-
Dr. Hartog has established himself as a regenerative medicine innovator in the increasingly popular procedure of fat grafting and the ability for patients to safely bank their own fat, especially in conjunction with a liposuction, and use their fat to restore areas of the body, including serial breast reconstruction, breast enhancement, and as a facial filler.