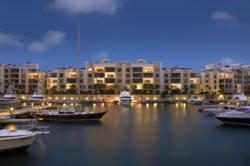 "We are excited that our clients now have the opportunity to visit this extraordinary resort and marina..." - Eric Simonton, Vice President of Real Estate for IGY
Fort Lauderdale, FL. (PRWEB) October 17, 2012
IGY Marinas announces the welcoming of the newest addition to its international network of marinas, La Amada Marina in Cancun, Mexico. With 176 slips for yachts up to 180 feet, the marina is part of the La Amada Residences and Marina in Playa Mujeres and boasts 214 exquisite beachfront condominiums as well as stunning natural surroundings including the Mayan Ruins.
The marina lies within one of the most exclusive and private communities in the region, and is located just minutes from the world's second largest coral reef and an abundance of sport fish and sea life. La Amada is just a 10-minute drive from the center of Cancun with many restaurants, bars, clubs and nearby golf courses. With a maximum depth of 12 feet, the La Amada Marina offers 24-hour surveillance and a concierge that is fully at the service of marina guests. Conveniences such as a boat repair facility with a 100-ton travel lift, fuel, provisioning, and a ship's agent make berthing in Cancun a hassle-free experience for yachtsmen.
La Amada Marina is the newest of the 13 marinas in the IGY marina network. Vice President of Real Estate for IGY Marinas Eric Simonton says, "We believe there is tremendous opportunity in Mexico, and we are pleased to be able to grow our presence in that market. La Amada Marina allows us to fill out our Western Caribbean strategy and we are now able to provide a complete circuitous cruising itinerary through the Caribbean and Central America to our guests. We are excited that our clients now have the opportunity to visit this extraordinary resort and marina knowing that they can expect the level of service and amenities that the IGY brand is noted for."
Marina highlights include:

Berthing up to 180 feet
Maximum draft: 12 feet
Cable TV and WiFi
24 hour surveillance
Clean bathrooms and showers
Electrical capacity: 110, 240 and 480 volts
Captain's lounge
High-speed diesel fueling
Laundry services
Yacht provisioning
Tours and yacht charters
Fishing charters
Storage rooms available
Contact the marina: T +52.998.892.4760 E info(at)laamadamarina(dot)com http://www.laamadamarina.com
By joining the IGY Marinas network, La Amada Marina guests are now privy to a host of benefits, including the IGY Anchor Club, the marina loyalty program where captains and owners accumulate and redeem points for dockage. Other network-wide dockage programs include the Caribbean Anchor Pass, where vessels can roam the IGY network for one upfront discounted price as well as the HomePort Program, a semi-permanent option for yachts looking for longer term dockage.
ABOUT IGY
With yachting destinations spanning the Americas, IGY has redefined the luxury marina experience. Founded in 2005, IGY focuses on acquiring, managing, and servicing luxury-yacht marinas and lifestyle destinations. Headquartered in Fort Lauderdale, Florida, IGY also has offices in New York, NY and St. Thomas, USVI. Island Global Yachting marinas operate under the signature Yacht Haven Grande Collection and the IGY series brands, as well as several private labels. IGY's network of properties is setting new standards for service and quality in nautical tourism throughout the world. The company now offers an unprecedented collection of 13 marinas in the Caribbean, Pacific and the Americas, all catering to a variety of vessel types including sportfishers, cruisers, sailing & motor yachts, as well as being exclusive home ports for some of the world's largest megayachts. IGY also participates in 9 of the world's biggest and best sportfishing tournaments, making our marinas in Cabo San Lucas, Mexico, St. Thomas USVI, Panama and Palmas Del Mar, Puerto Rico highly sought-after angler destinations.
IGY is an affiliate of Island Capital Group LLC, a real estate merchant banking firm led and founded by Andrew Farkas, former chairman of Insignia Financial Group. For more information, please visit http://www.igymarinas.com.