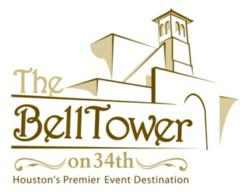 Houston, TX (PRWEB) October 19, 2012
Weddings are special, exquisite event. After the question has been popped, the planning begins. The first step on the agenda is selecting that perfect venue to host the special day. Houston has a wide array of wedding venues to choose from, but none compare to the stylish, intimate atmosphere hosted at the Bell Tower on 34th.
Choosing the Perfect Venue
Brides know that the venue makes the event. That is why the first thing to do to plan the special day is find that perfect venue. The venue is the deciding factor on a lot of things, such as the guest count, attire and even the type of food served, as well as the theme. It takes time to select the perfect venue and after countless hours of touring local Houston event centers, nothing stands up to the exceptional beauty of the Historic Bell Tower on 34th. Now if only the Bell Tower had been the first stop!
A One-of-a-Kind Venue for a One-of-a-Kind Event
Every wedding is as unique and exclusive as the bride and groom. For that special day, it's important to have a one-of-a-kind venue that matches the unique style of the event. Share those special moments with family and friends at the Historic Bell Tower on 34th. The Bell Tower on 34th has multiple ballrooms, chandelier room and even dual chapels to host the ceremony and reception. Take the photographs on the grounds or anywhere within this historic Houston location.
Vendors for Every Wedding To-Do List
The Historic Bell Tower on 34th has contracts and agreements with multiple vendors throughout the Houston area to provide its couples with a one-of-a-kind event. Choose from catering to transportation to cinematography experts.
About the Historic Bell Tower on 34th
The Historic Bell Tower on 34th was re-established in 2009 and is now part of the Greater Houston Convention and Visitors Bureau as one of leading venues in the Houston area. The Bell Tower on 34th can house 50 to over 1,000 guests for the next event and with its team of experts ranging from wedding planners to event producers and executive chefs, the event will be created flawlessly. Contact an event producer today by visiting http://www.thebelltoweron34th.com or calling (713) 868-BELL.