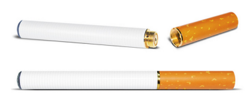 (PRWEB) October 15, 2012
Electronic Cigarettes Fast now is now offering their products at a 20 percent referral discount. Electronic cigarettes already save customers money since they don't need to buy multiple packs of cigarettes per week, but with the discount they are even more affordable.
Electronic Cigarettes Fast offers top of the line electronic cigarettes that taste and feel like real cigarettes but lack the smell, chemicals and tar found in most traditional tobacco cigarettes. The electronic cigarette cartridges are also available without nicotine for those who want to try smoking simple water vapor cigarettes. Since all of Electronic Cigarette Fast's products are smoke-free they can be used indoors without having to worry about the smell or second hand smoke.
This new smoking alternative has been growing in popularity and, in addition to cutting the cost of smoking cigarettes on a regular basis, has helped many customers to quit smoking altogether. For more information or to take advantage of the 20% off referral discount, visit Electronic Cigarette Fast's website a http://www.electroniccigarettesfast.com or call 1-866-443-8870.
Electronic Cigarettes Fast
Electronic Cigarettes Fast specializes in premium, smokeless two part cigarettes with a battery that attaches to a liquid nicotine filled cartridge flavored with tobacco or menthol to give the customer the optimum smoke-free electronic cigarette experience. Also available are electronic cigarette starter kits. The company is also known for it's affordable prices, speedy delivery and high-quality performance and is an accredited member of the Better Business Bureau.