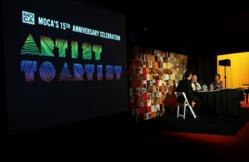 Miami, FL (PRWEB) October 17, 2012
The Museum of Contemporary Art (MOCA) North Miami brings viewers Artist-to-Artist, an exciting new television series featuring some of the world's most intriguing contemporary artists.
Over the course of four, half-hour episodes premiering on Sundays in November, Artist-to-Artist will offer viewers insight into the practices of such artists as Tracey Emin, Malcolm Morley, David Salle, Mark Handforth and Shinique Smith along with 12 other renowned artists from the United States and abroad. Watch as the artists discuss their work, contemporary culture, and Miami's remarkable emergence as an international art center, in this intimate exchange of ideas.
Since the mid-1990s, MOCA North Miami has been a defining force in Miami's cultural evolution, presenting over 150 exhibitions of contemporary art by emerging and established artists. Each of the artists featured in the program has played an essential role in MOCA's history. Artist-to-Artist is hosted by MOCA North Miami Executive Director and Chief Curator Bonnie Clearwater, and features commentary by Alberto Ibargüen, CEO and President of the John S. and James L. Knight Foundation, whose support of the arts has been key to Miami's cultural growth.
Artists featured in the series are (in alphabetical order): Daniel Arsham, Tracey Emin, Naomi Fisher, Dara Friedman, Mark Handforth, Ragnar Kjartansson, Isaac Julien, Malcolm Morley, Jorge Pantoja, Enoc Perez, Richard Phillips, Jack Pierson, Matthew Ritchie, David Salle, Magnus Sigurdarson, and Shinique Smith.
The Artist-to-Artist: Conversations at MOCA Television Series is made possible with support from the John S. and James L. Knight Foundation.
Episodes
November 4, 2012 at 6 pm
Love, Literally
Featuring: Tracey Emin, Isaac Julien, Jack Pierson
November 11, 2012 at 6 pm
The Intensity of Miami
Featuring: Daniel Arsham, Naomi Fisher, Dara Friedman, Mark Handforth, Jorge Pantoja, Ragnar Kjartansson, Magnus Sigurdarson
November 18, 2012 at 6 pm
The End of Art was Only the Beginning
Featuring: Malcolm Morley, Richard Phillips,
David Salle
November 25, 2012 at 6 pm
A 21st Century Perspective
Featuring: Enoc Perez, Matthew Ritchie,
Shinique Smith
About the Artists
Daniel Arsham is a Miami artist now based in New York. In 2007 He had his first solo museum exhibition at MOCA and was selected to design the set for choreographer Merce Cunningham for his production at Miami's Performing Arts Center.
Tracey Emin is one of Britain's most celebrated artists. A Turner Prize nominee, she will have her first solo U.S. museum exhibition at MOCA, North Miami in December, 2013.
Naomi Fisher is a Miami-based artist and co-founder the Miami alternative art space, Bas Fisher Invitational. Her work has been included in several MOCA exhibitions.
Dara Friedman is a Miami-based artist born in Germany whose film installation Bim Bam is part of MOCA North Miami's permanent collection.
Mark Handforth was the first Miami artist to receive a solo exhibition at MOCA North in 1996 and his sculptures were the subject of a comprehensive solo exhibition at MOCA in 2012.
Isaac Julien is a British artist who lives and works in London. MOCA presented the U.S. premiere of his film True North and the world premiere of his performance Henson's Journey in conjunction with the film in 2005.
Ragnar Kjartansson is an Icelandic-based artist whose solo exhibition, Song, was on view at MOCA North Miami in 2012.
Malcolm Morley was the first artist to receive the Turner Prize for British artists in 1984. His painting retrospective, The Art of Painting, was organized and presented by MOCA in 2006.
Jorge Pantoja is a Miami-based artist who was born in Havana, Cuba. His work was the subject of a solo exhibition at MOCA North Miami in 1998.
Enoc Perez was born in Puerto Rico and lives and works in New York. His paintings were the subject of a solo exhibition at MOCA in 2008.
Richard Phillips is known for his large-scale glossy hyper-realistic paintings, reflecting traditions of popular image culture. MOCA gave him his first museum exhibition in a group show in 1996.
Jack Pierson is an American artist whose neon light installation, Paradise, is one of the most iconic works in MOCA's permanent collection. His work was the subject of a solo show in 2002.
Matthew Ritchie was born in London, England and lives and works in New York. His solo exhibition, The Fast Set, was presented at MOCA in 2000.
David Salle is an American painter who has helped shape the post-modern sensibility. He was featured in MOCA's Mythic Proportions: Painting in the 1980s exhibition in 2001.
Magnus Sigurdarson is an Icelandic artist who has lived and worked in Miami since 2004. He was recently featured in MOCA 's Trading Places.
Shinique Smith lives and works in New York. Her solo exhibition Shinique Smith: Menagerie was on view at MOCA in 2010.
MOCA's 15th Anniversary Celebration
Honorees: Alberto Ibargüen and the John S. and James L. Knight Foundation and the artists of MOCA
Lead Sponsor: Cartier
Special Thanks: John S. and James L. Knight Foundation
Artist-to-Artist Conversations: Sotheby's
Honorary Chairs: Irma & Norman Braman
Chairs: Dr. Kira & Neil Flanzraich; Francie Bishop Good & David Horvitz; Barbara Herzberg; Joanne Katz;
Dr. Shulamit & Chaim Katzman; Jan & Daniel Lewis; Diane & Alan Lieberman
Vice Chairs: Sandra & Stephen Muss; Ray Ellen & Allan Yarkin
##
About the Museum of Contemporary Art North Miami
MOCA North Miami is internationally recognized as a force in defining new trends and directions in contemporary art. Its permanent collection reflects important developments in contemporary art from the United States and abroad and its extensive roster of programs make contemporary art accessible, understandable, and enjoyable to people of all ages.
MOCA's Knight Exhibition Series is made possible by the John S. and James L. Knight Foundation. Exhibitions and programs at MOCA are made possible through grants from the City of North Miami. Sponsored in part by the State of Florida, Department of State, the Florida Council on Arts and Culture, and National Endowment for the Arts. With the support of the Miami-Dade County Department of Cultural Affairs and the Cultural Affairs Council, the Miami-Dade County Mayor and Board of County Commissioners. The Museum of Contemporary Art is accredited by the American Association of Museums.
About WPBT2
South Florida's premier public broadcaster, WPBT2, is a community-licensed, not-for-profit media enterprise serving communities from the Treasure Coast to the Florida Keys. WPBT2 provides high quality content from PBS, independent acquisitions and its own original productions. WPBT2's digital media platform, offers: 2HD, a 24-hour high definition channel; Digital 2.2, a mix of Science & Nature Channel, The Florida Channel and Create; Digital 2.3, V-me, a 24-hour national Spanish-language network; and http://www.wpbt2.org, the WPBT2 website including, Impromp2 (a community blog), the WPBT2 Video Player and uVu, a video sharing website.
About the John S. and James L. Knight Foundation
Knight Foundation supports transformational ideas that promote quality journalism, advance media innovation, engage communities and foster the arts. We believe that democracy thrives when people and communities are informed and engaged.