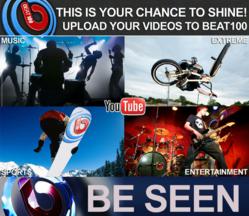 BEAT100 offers users an easy way to be seen.
(PRWEB) October 16, 2012
The BEAT100 App gives users the best new music and videos at your fingertips every day. If users want a showcase of incredible new music, the chance to chat with friends and decide who takes home the weekly music chart cash prize then BEAT100 has created the perfect App.
BEAT100 is a music / entertaiment and social video network that brings users up and coming music and artists 24/7. BEAT100 run a 14 day music chart to determine the best new music from around the world; a competition where users decide who tops the charts!
The BEAT100 music and video app lets users keep on top of the charts, wherever and whenever they like!
BEAT100 includes all the features of a social network enabling users to:

Add and stream You Tube videos
Enter videos into the music charts
Live chat and message feature
Make new friends and connections
Connect with up and coming Bands and Musicians
Upload videos, photos, music and share to facebook and twitter
Share, comment, vote and like options
Post status updates onto a private or public social wall
Create band/artist pages and upload MP3 music files
Share favourite videos on all other social networking accounts
BEAT100 allows users to login directly through Facebook and Twitter account.
BEAT100 app lets users keep on top of what's happening from wherever they are.
BEAT100.com is a social network focused on new music and entertainment videos. Musicians, bands, BMX riders, Skateboaders, Dancers and more from around the world upload videos to the BEAT100 social network for a chance to win a cash prize pool of $2000 per month. Every 14 days 3 artists get to share in a prize pool and users get to vote favourite videos every 24 hours.
The BEAT100 social network brings users the very best new music and entertainment from around the world every day of the week. BEAT100 is also a social network where users can chat with your friends live, send messages, vote for videos, read the latest music news and watch the best entertainment from around the world.
NEW: Lifestyle Video Charts coming soon to BEAT100. Upload videos such as BMX, Dance, Extreme Sports and more to Win Cash and Exposure