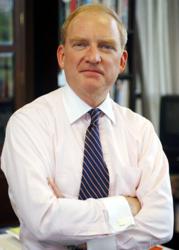 St. Louis, MO (PRWEB) October 29, 2012
The St. Louis County Library Foundation's 'Buzz' Westfall Favorite Author Series is pleased to present National Interest editor and historian Robert Merry for a discussion and signing of his book "Where They Stand: The American Presidents in the Eyes of Voters and Historians." The event will take place at Library Headquarters (1640 S. Lindbergh Blvd.) on Thursday, November 29, at 7:00 pm. The program is free and open to the public. Books will be available for purchase at the event from Barnes & Noble.
Robert Merry has great fun reinventing the ever-popular game of Rate the Presidents, all the while teaching a lot of American History. He explores the American presidency by how and why presidents succeed and fail. He reviews the judgments of historians and places them against contemporary assessments—whether the president was re-elected and, after, whether his party held power in the next election. Merry's narrative is also sprinkled with human drama; with luck, good and bad; with probing assessments of the temperaments of the greatest among them.
Merry profiles the presidents he calls "Men of Destiny," the great ones who captured the imagination of their contemporaries and set the country on a new course. These, everyone agrees, include Washington, Lincoln, and FDR, nearly always rated the top three. But all the presidents appear on stage—near greats (Jefferson, Jackson, T. Roosevelt, Wilson, Truman, for example) and utter failures (Buchanan, Andrew Johnson, Fillmore, Pierce). There are also those who have fluctuated over time—Grant, Hoover, Eisenhower, JFK, for example—depending on who was keeping score.
Robert Merry, editor of The National Interest magazine, has been a Washington correspondent for the Wall Street Journal and editor/CEO of Congressional Quarterly. He has written for The New York Times, The Wall Street Journal, National Review, and The American Spectator. He has appeared on Meet the Press, Face the Nation, and many other public affairs television programs. Author of the New York Times bestseller, "A Country of Vast Designs," about President Polk, this is his fourth book.
The program with Robert Merry is a St. Louis County Library 'Buzz' Westfall Favorite Author Series presentation. The Westfall series features authors of politics, current issues, history, and sports. The series is co-sponsored by Jack Dubinsky and Sons; McMahon Berger; Sachs Properties; Brown Smith Wallace LLC; Royal Banks of Missouri; St. Louis Business Journal; Midwest Library Service; The Booksource; Ivey-Selkirk Auctioneers; S.M. Wilson & Co.; Arthur J. Gallagher and Co.; and Stifel, Nicolaus.
Program sites are accessible. Upon two weeks notice, accommodations will be made
for persons with disabilities. Contact St. Louis County Library by phone 314-994-3300 or visit http://www.slcl.org.