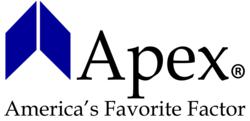 Through blog posts, Apex has a voice in the transportation industry and provides valuable information to a niche audience.
Fort Worth, TX (PRWEB) October 16, 2012
Apex started blogging in April 2012 to provide followers with current information on topics affecting carriers, brokers and shippers. Trade professionals who follow the Apex blog receive triweekly blogs and an article published in the July issue of Team Drivers & Women in Trucking entitled, "Factor Smart to Make More Money: Utilize Resources, Know the Industry and Work Efficiently." Apex's blog follows pressing matters in the transportation industry and aims to help industry professionals understand and take part in the legislative processes that affect them. Blog posts regarding the recently enacted Moving Ahead for Progress in the 21st Century Act (Map-21) highway bill and Jason's Law will post this week.
David Baker, President of Apex Capital, commented, "Blogging is a beneficial way to connect with our clients and affiliates and address topics that affect them. Through blog posts, Apex has a voice in the transportation industry and provides valuable information to a niche audience."
Apex regularly posts regarding legal issues in the transportation industry including FMCSA's safety initiatives, the Map-21 highway bill and continued concerns over the Electronic On-Board Recorder (EOBR) mandate. Monthly, Apex covers product reviews, diesel fuel projections, available produce loads in the States, technology for truckers as well as trending industry news, upcoming events, available training opportunities and promotions. This week's posts focus on a product review of Dynasys Never Idle, a breakdown of the Map-21 highway bill and the protection Jason's Law provides drivers.
Blogging offers Apex the opportunity to engage with existing and prospective clients who are affected by high fuel prices and changes in legislation and to offer a better understanding of factoring. The Apex Blog is an integrated resource serving followers in the transportation industry.
###
About Apex Capital
Founded in 1995, Apex Capital provides more than just cash flow for clients. Apex provides honest and innovative full service freight bill factoring, a competitive fuel discount program and total management of accounts receivable. Apex works with the Alliance for Safe, Efficient and Competitive Truck Transportation (ASECTT) and other organizations to ensure fair legislation and regulation of the transportation industry in order to keep the industry competitive and profitable for America's freight haulers. Apex is a privately held company in Fort Worth and has been voted one of the top companies to work for in Texas for the last 5 years. For more information call 800.511.6022 or visit http://www.apexcapitalcorp.com.