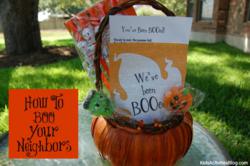 Start a new Halloween Tradition in the neighborhood: You've Been Booed!
Dallas, TX (PRWEB) October 25, 2012
You've Been Booed! This new fun Halloween tradition will have the whole neighborhood in smiles. Kids Activities Blog is taking Halloween to a new level with this Halloween surprise tradition and new Halloween food ideas this season.
Bringing the neighbors a Fall or Halloween themed basket full of goodies anonymously is the latest buzz on Kids Activities Blog. Create a fun-filled basket at home and drop off the basket at the neighboors door. Don't forget to put a note at their door, then ring the doorbell, and run. The note at their door tells other neighboors that this house has just been booed. In the basket include a letter according to the template provided on Kids Activities Blog. The letter is a fun fall note and includes instructions to pick two other neighborhood houses to be booed. This fun new fall tradition will have the whole neighboorhood in smiles.
Another amazing Halloween surprise is making a Spookey Fog Drink. This creative Halloween food will make any Halloween Party extra spookey. Ingredients for this drink are a colorful kids drink like Kool-Aid, gummy worms, dry ice, warm weather gloves and a clear glass. Mix and decorate ingredients according to the recipe on Kids Activities Blog and watch the childrens eyes grow in amazement at this Spookey Fog Drink.
About Kids Activities Blog
Kids Activities Blog is a website created by two moms (who collectively have 9 children), Rachel Miller and Holly Homer from June Cleaver Nirvana. It is their daily goal to inspire parents and teachers to play with kids. This interactive website publishes simple things to do with kids twice a day. Kids Activities Blog is a great tool for moms and teachers to find kid-friendly activities that create memories and sneak learning into the fun.