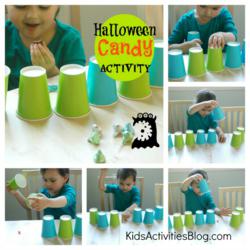 Halloween math games are games with a purpose.
Dallas, TX (PRWEB) October 26, 2012
Halloween time is candy time. This year, Halloween activity ideas use left-over candies in creative and fun ways according to Kids Activities Blog. Using leftover candy to play memory games, matching games, and math games has the little ones as well as the older siblings asking for more playtime.
Playing Halloween games with the left over candy is easy. One Halloween games idea is using paper cups in a row and hiding candy pieces beneath them. The preschooler can shuffle the cups and then find the hidden candy. A tip is to use candy the preschooler does not like so the candy does not end up in the little ones mouth every time it is played.
Other fun games include Halloween math games. This activity for school age children uses Hershey Kisses and white small round garage sale stickers. Write multiplication facts on the stickers, stick them on the bottom of the candy and let the child find the factors to the muliplication problem. The children will beg to do more multiplication facts using Hershey kisses instead of simple flash cards.
These and other fun Halloween activity ideas turn simple games into games with a purpose according to Kids Activities Blog.
About Kids Activities Blog
Kids Activities Blog is a website created by two moms (who collectively have 9 children), Rachel Miller and Holly Homer from June Cleaver Nirvana. It is their daily goal to inspire parents and teachers to play with kids. This interactive website publishes simple things to do with kids twice a day. Kids Activities Blog is a great tool for moms and teachers to find kid-friendly activities that create memories and sneak learning into the fun.