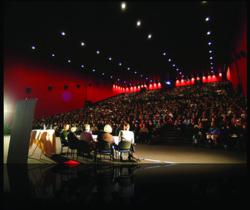 SHAP Chairman Alan Yates said "This report will be of considerable interest to anyone wishing to actively engage in Green Deal, ECO or Retrofit."
(PRWEB UK) 16 October 2012
Delivering housing retrofit at scale is to be debated at a dedicated social housing conference on 31st October, sponsored by the Sustainable Housing Action Partnership (SHAP).
The 'Social Housing' module within Retro Expo's Green Deal Summit will take place on 31 October at the Birmingham NEC and will examine the implications of engaging in the Green Deal and ECO. SHAP will also be launching their Report for 2012 which brings together the outcomes of several task and finish groups who have been working to provide evidence on how the objectives of the Community Green Deal framework , developed by SHAP in 2010, can be delivered in practice.
SHAP Chairman Alan Yates said "This report will be of considerable interest to anyone wishing to actively engage in Green Deal, ECO or Retrofit. With contributions from active participants in key sectors the report will provide real insight into the opportunities and challenges of the £17 billion per annum retrofit market."
Speakers include Paul Sutton from SHAP, Cliff Horrocks from Walsall Housing Group and Richard Baines from Black Country Housing Group, who will present up to the minute findings for Green Deal and ECO outlining different models for engagement - Provider, Partner, Participant or Passive player.
The scale and scope required to meet the demands of the Green Deal and ECO market and what decentralised energy generation will mean for housing stock will also be debated by Pat Laughlin, from Midlands Environmental Business Company, Paul Davies from Wates Living Space, Paul Dockerill from Inex, Graham Eastwick from ENCRAFT and Jim Allen from Green Energy Networks.
The wider Green Deal Summit is the definitive conference on this flagship policy. Bringing together leaders from across the value chain, from clients to installers, the seven modules of the Summit will address key issues including finance, generating demand, ensuring high standards of workmanship and achieving affordable technological solutions.
To find out more about the conference programme and to book your place, visit greendealsummit.co.uk.
Note to editors
For further details please contact:
Stephanie Moore
T: 01363 860070 E: stephanie(at)redearthpr(dot)co(dot)uk
Retro Expo is the UK's first major exhibition and conference dedicated exclusively to low carbon retrofits and is being delivered in partnership with the Building Research Establishment (BRE) and The Department for Energy and Climate Change (DECC).
Taking place at the NEC, Birmingham from Tuesday 30th October – Thursday 1st November 2012, Retro Expo comprises of four core elements:

The Green Deal Summit – a conference aimed at key senior-level stakeholders reviewing progress, driving change and market growth.
Retrofit Buyer's Forum – a networking opportunity connecting large-scale buyers of goods and services in the refurbishment sector with manufacturers and service suppliers. The Forum will provide diarised appointments for over 100 buyers in one-to-one meetings
Retro Expo – over 150 exhibitors showcasing innovative technologies, products and services aimed at the retrofit and refurbishment markets. The exhibition floor plays host to four Knowledge Hubs - a series of free educational seminars and demonstration areas
Retro Expo Awards – recognises excellence in retrofit products, projects and people across the domestic, commercial and public sector markets.
Retro Expo is organised by Radar Communications in partnership with the BRE and DECC