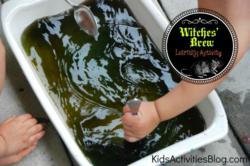 Making Witches Brew is one of the best educational activities for Halloween according to Moms on Kids Activites Blog.
Dallas, TX (PRWEB) October 29, 2012
Color mixing activities are perfect during the colorful Fall season. These activities are teaching the basics of mixing colors as well as teach important science concepts as well.
One of the best color mixing activities is making Witches Brew. It is great fun for toddlers and preschoolers because it involves messy water play. Moms love it because it teaches the basics of mixing colors and teaches them basic science concepts as well.
Using water, food coloring, a bowl and a spoon follow the instructions presented on Kids Activities Blog. Step-by-step let the kids take turns pouring the color into the water. The way to learn is asking questions like a real scientist according to Hypothesis, Observation, and Conclusion. To make this Halloween activity even more fun use colored ice cubes.
Other fun Preschool Halloween activities include a Pumpkin seed matching game, making orange Pumpkin shaped Jello, making a Pumpkin Seed Math book and playing a colorful matching game with a Pumpkin shaped ice tray purchased at the Dollar Store.
The list is endless and Moms are blogging in numbers about these fun as well as educational Color Mixing Halloween activity ideas on Kids Activites Blog this fall.
About Kids Activities Blog
Kids Activities Blog is a website created by two moms (who collectively have 9 children), Rachel Miller and Holly Homer from June Cleaver Nirvana. It is their daily goal to inspire parents and teachers to play with kids. This interactive website publishes simple things to do with kids twice a day. Kids Activities Blog is a great tool for moms and teachers to find kid-friendly activities that create memories and sneak learning into the fun.