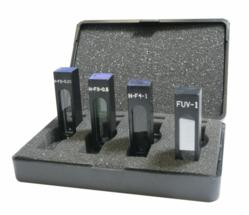 Once the calibration standards have been received by NSG's loyal customers, they can rest assured that the standard will never lose its accuracy due to material aging.
Farmingdale, NY (PRWEB) October 17, 2012
Beginning in early 2011, NSG Precision Cells released the most innovative advancement in the UV-VIS spectrophotometer calibration field with their revolutionary calibration standards. The sales numbers of these one-of-a-kind spectrophotometer standards has tripled from 2011 and NSG has acquired large customers such Roche, GlaxoSmithKline, National Institute of Health (NIH), and GE just to name a few.
NSG has made a few great additions to their calibration standards line. In mid-2012 NSG released unique wavelength calibration standards that are second to none. NSG's WAV-1 UV-VIS holmium oxide filter has been one of the companies best sellers for wavelength calibration in both the UV and VIS range.
There are numerous companies selling spectrophotometer standards, but what is it that makes NSG's so special? First off, NSG uses patented nanodeposition layering technology that give NSG's customers the benefit of never having to worrying about recalibration fees. Once the calibration standards have been received by NSG's loyal customers, they can rest assured that the standard will never lose its accuracy due to material aging.
The second largest advantage of NSG Precision Cells calibration standards is that they are extremely robust. Many laboratory workers are in a rush to finish their experiments and accidents can happen. Therefore, NSG has made their calibration standards in reinforced metal housing to ensure that the standard will not be damaged if dropped. Old fashioned liquid standards would easily break if dropped or accidentally tipped over. This would mean purchasing an expensive new filter and having to wait for it to arrive.
Having the power of being able to calibrate a spectrophotometer directly in a user's lab is priceless. This saves researchers the hassle of having to pack up and ship out their machines. Additionally, this saves the downtime of having to wait for the spectrophotometer to be calibrated at the manufacturer and then returned to the laboratory, which can takes weeks. Researchers who need to calibrate their spectrophotometers on a daily basis have really benefitted from these exceptional calibration standards.
Traceability is critical when working with calibration standards. All of NSG's spectrophotometer standards are NIST traceable and are calibrated according to NIST 930e guidelines. Also, NSGs calibration standards are certified by NRC Canada. Lastly, to ensure the most premium quality, these standards are made in an ISO 17025 certified facility.
NSG is so confident in the performance of their spectrophotometer standards, that they provide a Lifetime Warranty with each calibration kit. NSG guarantees that their calibration standards will never have a lose in performance due to material aging, have the highest optical quality, and will out perform any other calibration standards on the market.
When looking at the competition, who lures in customers with their seemingly inexpensive pricing, but later reveal that their calibration standards require re-calibration that costs just as much as the filter, the choice is clear. Customers are often tricked into buying a liquid based calibration filter that is far inferior to the NSG solid based spectrophotometer standards. In the end, customers spend much more money then they intended and waste time due to the re-calibration process.
Lastly, NSG offers their customers a convenient and affordable re-calibration service if they are still using the old liquid based calibration standards. In addition, NSG can custom made standards for the IR range as well as specific wavelength peaks.
Quality is of the utmost importance when performing any type of scientific work. A spectrophotometer must be in 100% working order to ensure the best results and utilizing NSG Precision Cells spectrophotometer standards is the ultimate solution for users who want to save time and money.
About NSG Precision Cells
NSG Precision Cells, Inc. was founded in 1958 and has been growing ever since. NSG Precision Cells, Inc. is a well established, highly regarded quartz manufacturer and we specialize in the manufacturing of quartz flowcells, quartz flow channel cuvettes, quartz microchips, quartz cuvettes, and other quartz optical products.